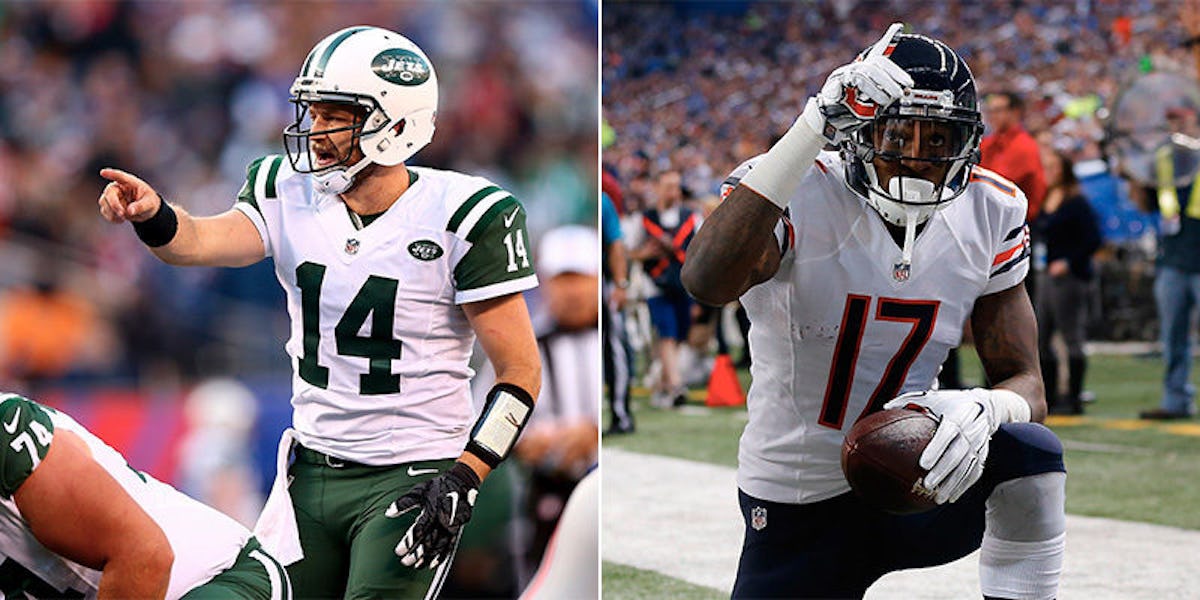 5 Must-Starts At Every Position For Your Fantasy Football Playoffs
Getty Images
Many Fantasy Football leagues are entering their first week of postseason play, and a lot is on the line.
Now, more than ever, is the time to ensure you have the right players in place to lead your team to a Superbowl victory.
While certain players are no-brainers to start at their respective positions like Aaron Rodgers, Adrian Peterson, Julio Jones, etc., here are some additional must-starts at each skill position that many owners may be pondering over.
Perhaps this will make your roster decisions a little easier heading into Week 14.
1. Jameis Winston (TB) vs NO
Winston is a viable candidate for 2015 Rookie of the Year.
He's led what was the worst team in the NFL just a year ago to a 6-6 record, and they find themselves in the midst of the playoff race.
He will face off against the New Orleans Saints in Week 14, who are ranked dead last against the pass this season.
Winston is in for a productive week if he continues to play smart and protect the football.
2. Russell Wilson (SEA) @ BAL
We all know how poorly the Ravens secondary has played this season.
They have a great run defense, but just can't seem to get their act together against the pass.
This makes for a great matchup for Wilson this week, especially if he is able to effectively use his legs like he usually does.
Expect him to have a productive game both on the ground and through the air in Week 14.
3. Blake Bortles (JAX) vs IND
Blake Bortles has shown star quality this season, as he continues to produce big fantasy numbers.
He is coming off an impressive showing in Tennessee last week, where he threw for 322 yards and five touchdowns.
While five touchdowns is hard to achieve in two straight weeks, you can still expect a 30-plus point performance from Bortles in Week 14.
4. Ryan Fitzpatrick (NYJ) vs TEN
Ryan Fitzpatrick has his Jets right in the thick of the playoff race and he has a very favorable matchup against the Tennessee Titans in Week 14.
As I just stated, Blake Bortles lit up the Titans last week with 46 fantasy points, and Fitzpatrick is capable of a similar performance, especially with the solid group of receivers he has to throw to.
Brandon Marshall and Eric Decker have become quite the dynamic duo in the open field, developing a solid chemistry with Fitzpatrick.
I boldly predict Fitzpatrick to be the highest scoring fantasy quarterback this week.
5. Tyrod Taylor (BUF) @PHI
Tyrod Taylor, former Baltimore Ravens backup QB, has come onto the scene strong this season with the Bills, who remain in the playoff race.
Taylor has scored at least 36 fantasy points over the past two games and this week he has the potential to do the same against an Eagles defense that is ranked 31st against the pass.
The Bills' coaching staff made a great decision in naming Taylor their starter behind center this year.
1. Lamar Miller (MIA) vs NYG
I'd consider Lamar Miller the starter of the week in Week 14.
He will face a New York Giants defense that has given up an average of almost 20 fantasy points per week to opposing running backs.
Miller is gaining momentum, coming off a 113-yard rushing performance against a Baltimore Ravens defense that has been rather impressive against the run this year.
I expect his productivity to continue this week in what will most likely be a high-scoring game with plenty of scoring opportunity for Miller.
2. Jonathan Stewart (CAR) vs ATL
Jonathan Stewart has been a bit under the radar this season, probably because his quarterback happens to be Cam Newton who is a sure candidate for MVP.
But if it weren't for Jonathan Stewart's productivity and ability to provide offensive balance, Newton would most likely not be having as stellar of a season.
The Panthers will take on the Atlanta Falcons this week who are ranked 29th in the league against the run.
Stewart, who is coming off a 16-point performance in Week 13 is in for another productive week at home in an effort to keep the Panthers' undefeated season alive.
3. Matt Forte (CHI) vs WAS
Matt Forte missed three straight weeks due to injury, and in Week 13, finally looked like his old self, with 123 all-purpose yards and a touchdown.
It looks as if he's 100 percent healthy again and ready to pick up where he left off before the knee injury he suffered in Week 8 against the Vikings.
The Bears will welcome the Washington Redskins to town this week, who have shown softness in their defense against the run this season.
I foresee Forte only getting stronger and more productive from here on out, and will boldly predict a 20-plus fantasy point performance from him this week.
And I'm not just being biased because I happen to own him in my league.
4. Shaun Draughn (SF) @ CLE
The 49ers have had a rough season, to say the least, but fortunately, they happen to play the Browns in Week 14 who's struggles seem to be even worse.
Due to injuries to Carlos Hyde and Reggie Bush earlier this season, Shaun Draughn has been given the opportunity to take on the leading role in this 49ers backfield.
And so far, he has produced. He is coming off his best performance of the season in Week 13 against the Bears, with 86 all-purpose yards and a touchdown, which was good for 14 fantasy points.
He has a very good chance of topping that performance in Week 14 against a very poor Browns run-defense who have given up over 21 fantasy points per game to opposing running backs this season.
5. T.J. Yeldon (JAX) vs IND
TJ Yeldon has had an impressive rookie season with the Jaguars, recording 5 double-digit Fantasy performances thus far in 2015.
His most productive game happened to come just last week, with 19 fantasy points against the Titans. Yeldon's potential for big numbers continues for the next three weeks, as he takes on the Colts, Falcons and Saints, who all have been terrible against the run this season.
He has the potential to end the season strong and I will boldly predict he records double-digit fantasy points in every remaining game of the season.
If you made it into the post-season in your fantasy league and you happen to own Yeldon, you are extremely lucky. Keep him in your starting lineup.
1. Alshon Jeffery (CHI) vs WAS
Jeffery is a wide receiver that has been under the radar this season.
Of course, he is not producing the stellar numbers he did in the past couple seasons, much of which is due to his injury at the beginning of the season, but he is still a dominant presence and threat in the open field.
This week the Bears take on the Redskins, who's weakness this season has been their defense. They have given up an average of 25.8 fantasy points to opposing receivers, which makes for a great Week 14 matchup for Jeffery, as long as Jay Cutler can deliver.
2. Brandin Cooks (NO) @ TB
Cooks has been Mr. Reliable for Drew Brees, despite the rough 4-8 season the team has had in 2015 as a whole.
He is coming off a 100-plus receiving yard performance against a tough Panthers defense in Week 13, and I foresee another big game from him against the Buccaneers this week.
In fact, the way both of these defenses have struggled, I could see this being quite a high-scoring shootout, which could generate season-high numbers for Cooks this week.
3. Jordan Matthews (PHI) vs BUF
Matthews has experienced some ups and downs this season.
But he has scored a touchdown in each of the last two games and seems to be getting into a bit of a groove late in the season.
The Eagles take on the Bills in Week 14, who have displayed some inconsistencies in their secondary, giving up 25 points per game to opposing receivers.
I would start Matthews this week if you own him, as he looks to extend his touchdown streak to three straight games.
4. Sammy Watkins (BUF) @ PHI
Sammy Watkins is my wide receiver start of the week.
He will face the Eagles who have quite possibly the worst defensive secondary in the NFL.
They have given up a league-high 28.8 points per game to opposing receivers, and Sammy Watkins has the ability to embarrass this defense in Week 14.
Watkins has scored three touchdowns in the past two games, pleasing his fantasy owners with double-digit performances. You can expect another one of those this week in Philly.
5. Doug Baldwin (SEA) @ BAL
Baldwin had a rather quiet first half of the season, with only two touchdowns in the first 8 weeks. Well, that has all changed in the past couple weeks.
Baldwin is becoming Russell Wilson's go-to guy, with 239 yards and five touchdowns receiving in the last two games for Seattle.
Now is a great time to own him in your league as he takes on two of the league's worst secondaries in Weeks 14 and 15.
He should dominate in Baltimore against a banged up, struggling Ravens defense. He will, at least, reach double digits this week.
1. Tyler Eifert (CIN) vs PIT
Tyler Eifert has had a stellar 2015 season for the Cincinnati Bengals, becoming one of the league's top-performing tight ends.
He missed last week's game with a neck injury but should return to action in Week 14 against the AFC North rival Pittsburgh Steelers, in a game with many playoff implications.
Pittsburgh has given up an average of 10 points per game to opposing tight ends this season, most of which weren't of Eifert's caliber.
He is in for a big week as long as he's healthy.
2. Scott Chandler (NE) @ HOU
Rob Gronkowski is still banged up with a knee injury and is unlikely to return in Week 14.
In that case, Chandler is a solid Week 14 start against the Houston Texans, who have displayed some holes in their secondary.
We all know Tom Brady likes to spread the ball around, so expect Chandler to be targeted several times in this game.
He has filled in well for Gronk thus far, recording double-digit fantasy points in the past two weeks. I predict a solid 60 yards receiving and a touchdown from Chandler this week.
3. Travis Kelce (KC) vs SD
Kelce is my starter of the week at the tight end position.
The Chargers have been weak against tight ends this season and we all know the damage Kelce is capable of.
While his productivity has been rather inconsistent this season, I can almost guarantee a solid performance from him in Week 14, with at least 15 fantasy points.
He is the bright spot in this Chiefs offense with the biggest play-making ability.
4. Jordan Reed (WAS) @ CHI
This is actually a matchup that looks rather unfavorable for Reed on paper.
Chicago has played well against tight ends this season, only giving up an average of 5.5 fantasy points per game to the position.
But the bottom line is, Reed is targeted by Kirk Cousins numerous times per game on a consistent basis. It's hard not to start a tight end that's guaranteed touches like this.
He may not have a stellar game, but he has the potential for solid numbers based on his number of targets.
5. Austin Seferian-Jenkins (TB) vs NO
This is my sleeper pick of the week. Prior to Week 13, the last game Seferian-Jenkins recorded any receptions was in Week 2.
Last week he made his return and gained 31 yards on three receptions and was targeted six times in the game. He may not jump out to you as a must-start based on his numbers thus far this season, but he will be taking on a Saints defense that is ranked dead last in the NFL against tight ends this season.
As long as Winston continues to spread the ball around and give Seferian-Jenkins opportunities, he has the potential for season-high numbers this week.