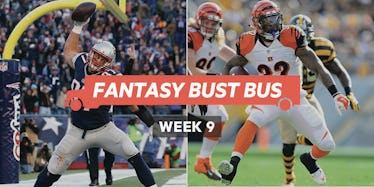 Fantasy Bust Bus: Nine Players Who Forgot To Show Up In Week 9
With the conclusion of Week 9, we're officially into the second half of the NFL season.
And despite the fact I rattled off two consecutive wins after a 1-5 start, it appears the greatest comeback in fantasy football history is going to have to be postponed for at least another year.
If you find yourself in a similar situation on this second Tuesday in November, just remember the Fantasy Bust Bus is here to chee-- make you feel less sh*tty.
After all, how were you supposed to know drafting Eddie Lacy would be the worst decision of your life? And could anyone predict AJ Green regressing like LeBron's hairline despite the Bengals being undefeated in November?
It's not your fault. Say it with me.
Anyway, here's the latest group of players who've skipped the team plane in favor of the one and only Fantasy Bust Bus.
*Stats are based on ESPN PPR scoring, with six points awarded for each quarterback touchdown.
QB Ryan Tannehill: 11 points
Coming into Week 9, the Buffalo Bills had given up at least 15 fantasy points to opposing quarterbacks in five of their seven games this season.
Unfortunately for Ryan Tannehill fantasy owners, that trend did not continue on Sunday.
The Dolphins quarterback was projected to grab 18 points in Buffalo, but after throwing zero touchdowns and fumbling twice, the Texas A&M product finished with just 11 fantasy points.
RB Doug Martin: 4 points
Following monster weeks against Carolina, Jacksonville and Washington, Doug Martin has barely moved the needle in his last two games.
Last week in Atlanta, Martin finished with eight fantasy points. And at home against the Giants in Week 9, he picked up just 31 yards on 11 carries. His four fantasy points match a season low in 2015.
RB Eddie Lacy: -1 point
I'm not sure what's wrong with Eddie Lacy this season, but based on the fact he's still owned in 98.8 percent of ESPN fantasy leagues, I'd say a whole bunch of folks are trying to figure that one out.
After scoring just his second touchdown of the season against Denver in Week 8, Lacy followed up with his worst fantasy performance of the year against Carolina.
The Packers running back finished with negative one fantasy point after rushing for just 10 yards on five carries.
WR AJ Green: 9 points
Aside from his 228-yard, two touchdown performance against the Ravens in Week 3, AJ Green has been relatively quiet this season.
The fifth-year Bengals wideout has just four touchdowns in 2015, and on Thursday against the Browns, he only caught four passes for 53 yards.
Nine fantasy points aren't necessarily trash, but that's far below expectations and needs when we're talking about a stud like AJ Green.
WR Demaryius Thomas: 10 points
Demaryius Thomas was projected to have the third-best fantasy performance for a wide receiver in Week 9, but he finished with just 50 receiving yards on five receptions and came up short of his expected 20-point output.
The Broncos wide receiver's 10-point day matches his worst fantasy outing of the season, and it's anything but a welcomed site for Thomas' fantasy owners.
TE Rob Gronkowski: 8 points
The most feared pass catcher in the NFL had produced a double-digit fantasy outing every week of this season coming into Sunday, but it appears Gronk is human after all.
The Patriots tight end finished with just eight total fantasy points against the Washington Redskins in Week 9, hauling in just four receptions for 47 yards. Brady and the Pats remained unbeaten, but Rob Gronkowski fantasy owners definitely took an L.
FLEX Jeremy Hill: 6 points
After being called upon to carry the football 15 times in Week 8, fantasy owners were betting big on Jeremy Hill this week.
While the Bengals' running back did get another 15 carries against the Browns, his 52 rushing yards didn't come anywhere close to his fantasy potential.
Hill was projected to finish with 14 points in Week 9, but his failure to gain serious yardage and find the end zone cost fantasy owners big time.
D/ST Green Bay Packers: -4 points
In case you were still counting on Green Bay's defense to boost your quest for a fantasy league title, Week 9 surely confirmed that won't be the case.
The Packers finished with negative fantasy points for the third straight time this season, and the 37 points they surrendered to Cam Newton and the Panthers were the most they've given up to an opponent all year.
Go Pack, go?
K Kai Forbath: 3 points
I can personally tell you following Week 9, Kai Forbath will no longer be kicking for my fantasy team. Nope.
I'd rather have some no-name rookie than a dude who has the game-winning field goal blocked inside of a dome. There's no wind, Kai!
Three fantasy points didn't get it done for me, and I'm sure it didn't help you either.
TOTAL: 46 POINTS