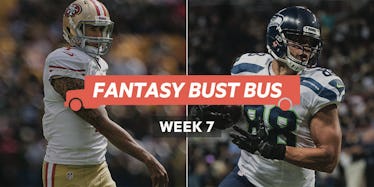 Fantasy Bust Bus: Nine Players Who Forgot To Show Up In Week 7
With seven weeks down and 10 to go, fantasy football leagues across the globe are starting to look an awful lot like "why did I bother playing this year in the first place?"
By a show of hands, who thought they were going to ride a Jimmy Graham-Russell Wilson partnership to their fantasy championship?
Come on, don't be shy.
It's OK, folks, that's why we're here: to make fun of fantasy owners and players, while we cry at our own misfortunes.
So instead of downing that bottle and forgetting what day it is, check out the Week 7 roster of players who we were counting on for a miracle, but instead delivered a lump of coal.
*Stats are based on ESPN PPR scoring, with six points awarded for each quarterback touchdown.
QB Colin Kaepernick: 4 points
After rattling off 24 and 26 points in weeks five and six, respectively, Colin Kaepernick showed exactly why he can't be counted on when it matters most.
Kaep managed just 124 aerial yards against a struggling Seahawks team on Thursday night, good enough for just four fantasy points.
Let's put it this way, only Luke McCown and Johnny Manziel finished with worse numbers.
RB Alfred Morris: 1 point
If you needed additional proof Redskins running back Alfred Morris is no longer that dude, look no further than Week 7.
Despite being up against a porous Tampa Bay team, Morris ran for just five yards on six carries.
He collected just one fantasy point and once again failed to find the end zone this season. Hit the drop button, now.
RB Rashad Jennings: 1 point
The New York Giants rebounded nicely from their disappointing loss to the Eagles last Monday, but running back Rashad Jennings had almost nothing to do with the win this weekend against Dallas.
Jennings finished with his lowest fantasy output of the season, collecting one point after rushing for 19 yards on just five carries.
Jennings hasn't scored a rushing touchdown since Week 1, which is bad news if you thought this would be "his year."
WR Brandon Marshall: 10 points
Coming into Week 7, Jets wideout Brandon Marshall was absolutely crushing it.
He scored a touchdown in every game but one, reached at least 100 receiving yards in four games and recorded at least 18 fantasy points in every game this year.
Sunday, though, Marshall caught just four passes for 67 yards, finishing with 10 fantasy points.
To make matters worse, he dropped a wide-open touchdown in the end zone that could've put the Jets in a position to beat the Patriots in Foxborough.
WR Odell Beckham Jr.: 7 points
There's no doubt OBJ is being hampered by a nagging hamstring injury, and it showed during his performance against the Cowboys in Week 7.
Despite being active, Odell racked up just 35 receiving yards on a season-low four catches.
Injuries are certainly understandable, but if he's playing, fantasy owners (and Giants fans) expect a big output from the dynamic playmaker. Seven fantasy points is anything but.
TE Jimmy Graham: 5 points
Just when fantasy owners and Seahawks fans thought Jimmy Graham had finally broken out of his slow start, he goes for just two receptions and 31 yards.
His Week 7 total of five fantasy points is Graham's second-lowest output this season, which only raises further questions as to why so many folks wasted an early-round pick on the former Saint.
FLEX Vincent Jackson: 2 points
The Tampa Bay Bucs put up 30 points against the Redskins in Week 7, but their no. 1 wide receiver did virtually nothing to contribute to that total.
Vincent Jackson caught just one pass for the second straight game and finished with his lowest fantasy output of the season, two points.
That 147-yard, one-touchdown performance against the Panthers in Week 4 feels like a distant memory to sick fantasy owners right now.
D/ST WASHINGTON: -3 points
You simply cannot give up 30 points to the Tampa Bay Bucs at home and expect not to get a seat on the Fantasy Bust Bus.
Washington did manage to claw their way back and get a crucial win in the end, but that was thanks to quarterback Kirk Cousins, not the 11 dudes who lined up against Jameis Winston and company.
K Greg Zuerlein: 4 points
How St. Louis kicker Greg Zuerlein still has a starting job is beyond me. Following a Week 5 performance in which he went one for four on field goal attempts, Zuerlein finished Week 7 by going one for three in that department.
Were there kickers who finished with less than four points this week?
Absolutely. But Zeurlein's potential for a huge fantasy day and resulting failure means he can pack a bag and grab a seat on the Bust Bus.
TOTAL: 31 POINTS