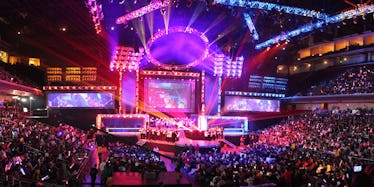 eSports May Be The Key To Giving Men And Women An Even Playing Field
The numbers behind the world's fastest-growing sport are staggering.
In 2015, 112 global eSports events dished out $61 million in prize winnings and produced over $20 million in ticket revenue. https://instagram.com/p/BAiQUipIv4e/embed/
This year, eSports is projected to generate $463 million from ticket sales, sponsorships, advertising and merchandise.
By 2019, that number is expected to top $1 billion.
Staggering.
It's no surprise, then, major television networks TBS and ESPN are at the forefront of trying to make eSports profitable.
TBS is set to premiere its first eSports competition on May 27, and the Turner network is going all in with a 10-week eSports series. The networks are anticipating audiences of young Millennial men who are just as pumped to watch eSports as they are other sporting events.
ESPN is also going to televise electronic gaming this Spring, but you may recall the network's first attempt to wade into the televised eSports waters in 2015 when ESPN2 televised a collegiate competition that ultimately failed to draw eyeballs.
Their task was undoubtedly made harder by comments from then-ESPN personality Colin Cowherd, who said he would quit before covering eSports on TV. https://www.youtube.com/watch?v=7N1ntWXf7rg
HBO's "Real Sports with Bryant Gumbel" conjured up similar sentiments. https://www.youtube.com/watch?v=Box01YzekaQ
But Cowherd, Gumbel and others are wrong. The numbers speak for themselves.
And while networks like ESPN and TBS are focussing on male Millennial viewers, they should be just as concerned with female viewership.
Aside from being a rapid-rising sport with increasing revenue, eSports also has a bright future because it has no physical gender-equality issues to grapple.
Rahul Sood, the CEO of eSports company Unikrn, told Elite Daily,
That's the big difference about eSports, it's the one sport where you can do that. You can have men and women on the same team or going against each other. It's the one space where you can actually do that, and it's great, so we should support that.
That being said, women can still face sexism in the competitive eSports arena.
Elite Daily spoke with Maricarmen Vargas, President and eSports Producer at Electronic Sports Puerto Rico, who shared her passion for gaming and detailed her tough climb to the summit of Puerto Rico's eSports operation.
Speaking on her first foray into eSports, Vargas told Elite Daily,
I was on semi-professional teams and was in the top .02 percentage of all people in Latin America, so I was really into the competitive scene. I got invited to play in tournaments outside of Puerto Rico, where I live, but I didn't have the money [for a] hotel [room] or plane ticket, so I tried to find sponsors here, and I was not successful.
But Vargas' inability to compete abroad is what drove her to lay the foundation for eSports in Puerto Rico. She said,
I failed terribly. People just didn't get it. I even cried. But that's why I got motivated to make my own tournaments here [in Puerto Rico]. My dream was to become the first female League of Legends professional player. I could've done it, but I ended up falling in love with the production side of eSports instead of playing.
In the beginning, Vargas struggled to get sponsors to buy into eSports in Puerto Rico, but she pegs that to potential investors not understanding eSports, rather than them not respecting a woman.
She told Elite Daily,
I'm a 21-year-old who looks like I'm 16, so imagine a 16-year-old-looking girl coming into your office to talk to you about video games being played professionally.
Vargas explained how her proven track record as a successful player eventually encouraged investment from sponsors. Then, after finding a business partner, Vargas used the sponsorship backing to take eSports in Puerto Rico from small-scale tournaments in homes and universities to large-scale events in theaters and ballrooms.
Vargas attributes some of her success to the global growth of eSports but doesn't shy away from all the hard work she's put in. She told Elite Daily,
Last year is when [eSports] exploded worldwide, so maybe we just got in it at the right time. But we still were the first ones to be brave enough to present to sponsors and to look for them. It's not easy finding the marketing director of Pepsi. I guess we were really persistent and stubborn with that. First, we had to sign contracts with thousands of dollars involved, which we did not have. That was a huge risk, but then we started to get money from sponsors to actually make these events.
If Vargas was met with skepticism from investors, she was hit with downright sexism from the Puerto Rican gaming community. Initially, she was made to feel like an outcast at events and received virtually no support when she started organizing competitions.
Eventually, though, through hard work and adept gaming skills, she turned her greatest detractors into her most ardent supporters.
Vargas conceded she absolutely faced added difficulty being a woman in eSports, but she doesn't chalk up the majority of her struggles to anything more than being a young entrepreneur.
She told Elite Daily,
Every single day I went to sleep like, 'I hate this. What am I doing?' But the next morning I'd wake up thinking, 'Oh awesome, I can't wait to see what I'm going to do today.' It's the basic daily routine. We're not going to stop, but since it is hard, it just stays in your mind every single day. But that's why being an entrepreneur is not for everybody.
One of the greatest challenges now facing Vargas is the task of getting other women to come out and compete in eSports competitions. She knows women are hyped about gaming, but she wants them to get off the sidelines and step into the action.
Millennial men may be the initial target audience for televised eSports here in the United States, but if Vargas and gaming's exponential global growth are any indication, it won't be long before we not only have a regularly televised playing field, but an even one.
Citations: As eSports Grows Online, TV Networks Like TBS and ESPN Are Hoping to Cash In And it's helping brands reach elusive male millennials (Adweek)