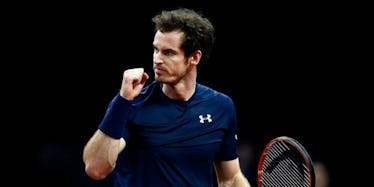 Elite Tennis Preview: Andy Murray To Make Quick Work Of Little Beast Ferrer
Getty Images
Turns out we should've came from a land down under last night. That's on me. I'm ashamed of myself.
In reality, it was a really, really, difficult night to try and bet yesterday. It happens. Still and all, we were a just a few Fed-errors away from seeing Berdych take the first set tiebreak (and also broke first in the third, too) -- and Kei squandered a 2-0 and 3-1 lead in the third set before losing in straight sets.
Had a few more balls bounced our way last night, we might be sitting here looking at another two-for-two night. Nevertheless, we gotta shake that sh*t off and look ahead to a new opportunity tonight.
On the docket tonight, we kick off with a little Ferrer-Murray action around 10:30 pm -- and, in the later match -- La Monf, Gaël Monfils, tests the likes of Milos Raonic.
Again, we find ourselves with some heavily priced favorites, so it doesn't seem that tonight will get any easier to try and cap.
Season totals: 25-15 (63%) +10.78 units
Raonic -3.5 games against Monfils
I've been watching a lot of La Monf this tournament. I backed him against Mahut. I backed him to beat Robert in straights: a match in which he went down a double break in each of the first two sets (and still won the match in three). I took a flyer on Kuznetsov against Monfils last round.
By now, I think I've got a pretty good beat on his form.
At the same time, I've also been watching a lot of Raonic this season, tracing back to his title run a few weeks back in Brisbane. While Monfils has looked good -- at some points -- and bad at others, Raonic has been exceptional all season.
However, in what might've been his most impressive match in recent memory -- against world No. 4 Stan Wawrinka -- Raonic displayed pinpoint serving as well as dominance from the baseline. His forehand has been cracking, and he's been coming to the net aggressively, cutting down points early in the rally.
As much as I love Monfils, I question his desire. He's a showman -- and if the show doesn't go his way early on, he's been known to check out mentally for stretches. If, tonight, Raonic looks as sharply as he did against Stan, it might be a quick match.
I fancy the game spread tonight, with Milos giving 3.5 games -- especially in a best of five. If the Canadian can win the first two sets -- even by slim margins -- I think La Monf will probably throw the towel during that final set.
I looked back to a few of his recent Grand Slam results, and the numbers don't lie. Last Wimbledon, he fought a tightly contested match against fellow countryman Gillou Simon that went to a fifth set -- only to drop it 2-6 after going down a break. At the French, he lost in four to Federer -- with Federer taking the fourth by the count of 6-1.
In the 2014 US Open against Roger, after being the better player for the majority of four sets, he dropped the fifth set 2-6. 2014 French Open, after taking Murray into the fifth set, he got bageled in the decider.
See my point? Monfils isn't a huge fan of adversity, and if Raonic is to win tonight's match -- which I believe he will -- there's a really decent chance he wins the final set by a large margin; probably large enough to cover the 3.5 game spread.
Lock it and load.
Prediction: Raonic in three (6-4, 7-6, 6-2)
Ferrer/Murray UNDER 37 games
I fancy Andy to get through to the semis tonight in straight sets.
Although Ferrer has been playing good ball this tournament, Murray creates a much more difficult challenge -- even for the Little Beast.
Here's the deal: Ferrer's greatest strength is his ability to play defense and bait opponents into making errors. The Spaniard lacks a lot of the offensive weapons required to beat Murray, who is also an elite defender.
If Andy can consistently hit his first serve -- and avoid making silly unforced errors -- there is a absolutely zero chance that Ferrer takes a set off of him. And given the way Andy's looked all tournament thus far, I expect another sharp performance from the Brit, tonight.
He knows what's at stake. Whether it's Roger -- or his famous foe, Novak -- Andy always seems to dig deep and find an extra gear when it matters most. With a trip to his second consecutive Aussie Open final on his mind, back Murray to make quick work of the Spanish No. 2 and focus on his next match -- the semifinals.
Prediction: Murray in three (6-2 6-3 6-4)