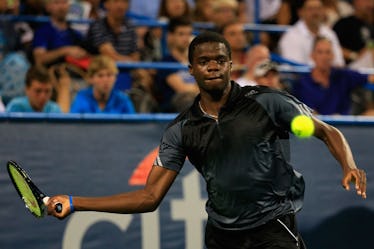 Elite Tennis Preview: American Teen Tiafoe Looks To Make A Run In Memphis
Getty Images
Well, I wrote last Monday that Estrella-Burgos might've been the biggest underdog to ever look to defend a title in Quito -- and that's exactly what he did, today.
After dropping the first set 4-6, Estrella-Burgos battled back in the second set tiebreak and ended up winning the match 4-6, 7-6, 6-2. Congrats to him.
This week, we find ourselves with three new tournaments to play with in Rotterdam, Buenos Aires, and -- our first stateside tournament -- in Memphis. 
Being that it's Super Bowl Sunday, and I've got some prop bets to peruse, I'm going to cut right to the chase here. Let's have a good week, yeah?
As it stands...
Season totals: 27-20 (57%) +5.33 units
Dzumhur +155 over Smyczek
Granted, after looking at Damir Dzumhur's past few results, I'm sure nothing overly impressive will pop out at you. However, if you look a little deeper, you'll begin to see why I value Damir, the 79th ranked player in the world, Monday -- especially at great odds.
In Sofia, he beat Jiri Vesely (a match where he was deemed a +200 underdog) and took a set off Kohlschreiber. Before that, in Melbourne, he beat Kyle Edmund (a match where he was almost a +300 underdog) and almost forced a fifth set against Goffin.
Sure, World No. 105 Smyczek is essentially playing a home tournament here in the States, I think there's too much value in the Bosnian at almost 2/1 odds. If crossover head-to-heads means anything to you, Edmund dogged Smyczek last week in the Dallas Challenger. Dzumhur beat Edmund in a best of five in Melbourne, mind.
I think Dzumhur is playing better tennis right now and is worthy of a crack here in the first round.
Prediction: Dzumhur in three (3-6, 6-4, 6-3)
Paire -115 over Dodig
At first, the Paire loss to Mathieu last week looked really, really, badly. I mean, both French players met in their native country, albeit in two different parts of their careers. Mathieu, the veteran, appeared to be in the twilight of his, and Paire, on the other hand, seemed to just be hitting stride after last season.
And while Mathieu ended up getting the best of Paire, I feel like that loss looks a lot better after seeing Mathieu make it all the way to the final in Montpellier, and even play a relatively strong match against the defending champ Richard Gasquet. Of course, there were a few mental lapses by Paire (which are to be expected), but -- as a whole -- Mathieu simply looked rejuvenated.
Still, as it always is with Paire, it should be a tight match -- especially seeing that Dodig beat Paire last year, in their last meeting. Nevertheless, Paire is clearly the better player between the two, and I expect him to snap this losing streak he's been on and right the ship tomorrow.
Prediction: Paire in two (6-2, 6-3)
Berankis -118 over Sela
I fancy Berankis here tomorrow. Thus far, in the young season, Berankis hasn't had the best "luck of the draw," if you will. In the first round of Doha, he drew Seppi -- a top 30 player -- and managed to beat him, before succumbing to Kuznetsov in the following round.
In the first round of the Aussie, he drew Dolgopolov, another tough match, and nicked a set off him before an early exit. In the second round of Sofia, he drew Muller, a difficult test for anyone. So although there are more L's than W's for Berankis in 2016, I don't think his results are indicative of his form.
Sela, on the other hand, has seen much of the contrary. Sure, he made the third round of the Australian Open, but faced only faced Benjamin Becker and Verdasco along the way, before getting dogged by Kuznetsov in the third round.
Berankis should be able to control points from the baseline against the Israeli, and as long as he can avoid errors and play aggressively he should be able to come out on top here.
Prediction: Berankis in two (7-5, 6-3)
Tiafoe -120 over Harrison
Tiafoe is my guy. He's the future of American tennis, I don't care what you've heard. Tomorrow he squares off against Ryan Harrison -- another homegrown American tennis product -- and a player who he beat in three sets last year at Winston-Salem.
After dropping the first set last year 1-6, Tiafoe began reading the Harrison serve and took the next two sets by the count of 6-3.
I think Tiafoe's been playing some really good tennis the past week -- and I actually caught some of his match against Groth -- where he pulled out a little fake and bake, à la Monfils.
I think he's a more motivated player than Harrison is, right now, and I also think he's the player of greater class.
Back Tiafoe and enjoy the show.
Prediction: Tiafoe in two (6-2, 7-5)
Gabashvili +120 over Mahut
I have a feeling this will be one of the better matchups of the day, despite the lack of star--studded names.
Over the years, the two have met four times, with the Russian winning three of them – including their last match, which came last year at Indian Wells (with Gaba pulling it out in straights).
While Mahut will surely look to serve and volley, his go-to tactic, against Gabashvili -- I expect the Russian to be able to generally control longer rallies from the baseline. Gaba tends to fare well against serve and volley players, however, beating Feli and Rosol during his French Open run last season, granted, on a clay court.
At the age of 34, the idea of Mahut's fatigue playing a factor after two rounds of quallies is certainly a relevant one -- especially if this match comes down to a third set. Having said that, I'm not sure if Gaba will need one tomorrow, and I fancy him to get thru Mahut in a tight match.
Prediction: Gaba in two (7-5, 6-4)