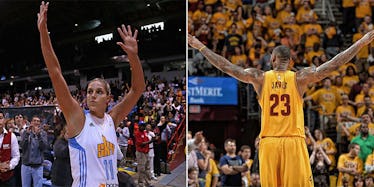 This WNBA Player Has Better Stats Than LeBron James, Steve Nash And KD
Facebook
At the age of 18, the WNBA's best player almost walked away from basketball for good.
Elena Delle Donne walked onto the UCONN campus in Storrs, Connecticut, ready to take the basketball torch from Maya Moore, but just two days later, she was on her way home to Delaware.
Delle Donne's sister, Lizzie, who has cerebral palsy and autism, in addition to being blind and deaf, was a major reason for her decision to enroll at the University of Delaware.
Once back home, Delle Donne walked on to Delaware's volleyball team, spent her summer teaching at Lizzie's school and realized she needed basketball in her life.
Delle Donne joined Delaware's basketball team as a redshirt freshman for the 2009-2010 season, and she hasn't looked back since.
Now, the former WNBA Rookie of the Year and three-time All-Star is in the midst of one of the best seasons in basketball history.
Here's how Elene Delle Donne became the WNBA's LeBron James.
Delle Donne was set to attend UCONN on a full ride, but she opted instead to head home to Delaware.
She set numerous records at the University of Delaware and won a CAA Conference title before leaving for the WNBA.
The 25-year-old quickly took the league by storm, winning Rookie of the Year honors with the Chicago Sky.
A year later, she was draining threes at the NBA All-Star Celebrity game.
Delle Donne has taken her game to the next level this season, draining baseline jumpers like an in-form Carmelo Anthony...
And drilling threes like a young Dirk Nowitzki.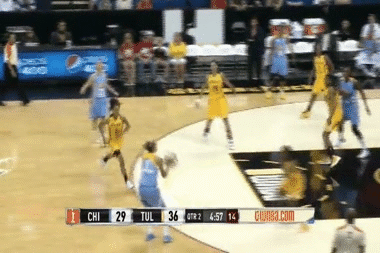 The former second overall pick is also the WNBA's second-leading shot blocker this season.
But that hasn't taken anything away from her scoring game; she leads the league in total points.
And has a better free throw percentage than Steve Nash's all-time NBA best.
The 6'5" guard-forward isn't in the habit of giving up easy buckets.
Over the first 10 games of the season, Delle Donne posted the highest player efficiency rating in pro basketball history.
She also has the ball-handling skills of Allen Iverson.
Between making numerous appearances away from the court and leading the league in minutes played, Elena Delle Donne is firmly in the spotlight.
Considering the Chicago Sky lead the WNBA in offensive rating and are just a game back of first place in the Eastern Conference, nothing seems to faze her.
Keep doing your thing, DD.
Citations: 2015 WNBA Season Summary (Pro Basketball Reference), ELENA DELLE DONNE IS HAVING THE BEST SEASON IN BASKETBALL HISTORY. NOW WHAT? (Vice Sports)