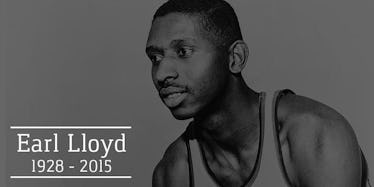 The Power Of The First: Every NBA Fan Owes Appreciation To Earl Lloyd
Earl Lloyd was not the Jackie Robinson of basketball.
By Lloyd's own admission, the huge spotlight America had on baseball, compared to that on basketball, and the hate Robinson faced from his own teammates make the comparison inaccurate -- and maybe a little unfair.
You might imagine his first experience playing on an NBA court, a meeting between his Washington Capitals and the Rochester Royals on Halloween night of 1950, was a hostile event.
But, Lloyd even played down that aspect of his career.
In an interview, he once said,
In the wintertime in Rochester, man, it's too damn cold to hate anybody.
He was not as good as Robinson, either. While Jackie was arguably the best player in his league at the time, Lloyd never reached superstar status.
In remembering Lloyd after his passing at the age of 86 on Thursday night, all the things he wasn't certainly should not take away from what he was: the first.
By chance, he was the first African-American player to play in the NBA. Two other trailblazers, Chuck Cooper and Nat Clifton, entered the league the same year but played their first games of the season days after Lloyd.
In 1955, alongside fellow African-American Jim Tucker, the two were the first black players to win an NBA championship.
He was the first black assistant coach in the league. As the leader of the Detroit Pistons, he also became the first black non-playing head coach in 1971.
All of that deserves praise because the thing about being first is it's never going to be easy.
No matter how friendly Lloyd's teammates were, and he did say that was the case, he still had to eat alone in his hotel room when he was due to play in a segregated town.
No matter how indifferent to his race his opponents had been, he still had to work in a place he once called the "cradle of segregation."
When other hotels demanded he not stay there, despite his coach's loud protestations, it was Lloyd who'd decide to leave to avoid all the trouble, as if he were the maker of it.
And it was Lloyd on the receiving end of racist jeers from opposing fans.
No matter how hurt he was by the experience (maybe very much so or not at all) he still deserves everyone's appreciation for going through it. If not for anything else, he deserves that appreciation because of what he symbolizes.
The firsts serve as reference points for the shameful conditions that were the norm in this country not too long ago, which in turn, makes the progress we see now that much more notable.
When we hear the firsts' stories, it makes us feel that much more fortunate our own don't have to be so as difficult.
To a league that is over 75 percent black, Earl Lloyd is the first. Even he, who seemed the humble type when it came to his place in history, couldn't shake the task of acknowledging that.
Lloyd was quoted by The New York Times as once saying he was "in the right place at the right time."
He continued,
I don't play it up or down, I just hope I conducted myself where I made it easier for others, and I think I did.
And because of that, all African-American basketball players -- better yet, all basketball fans who appreciate those players -- owe a bit of appreciation to Earl Floyd.