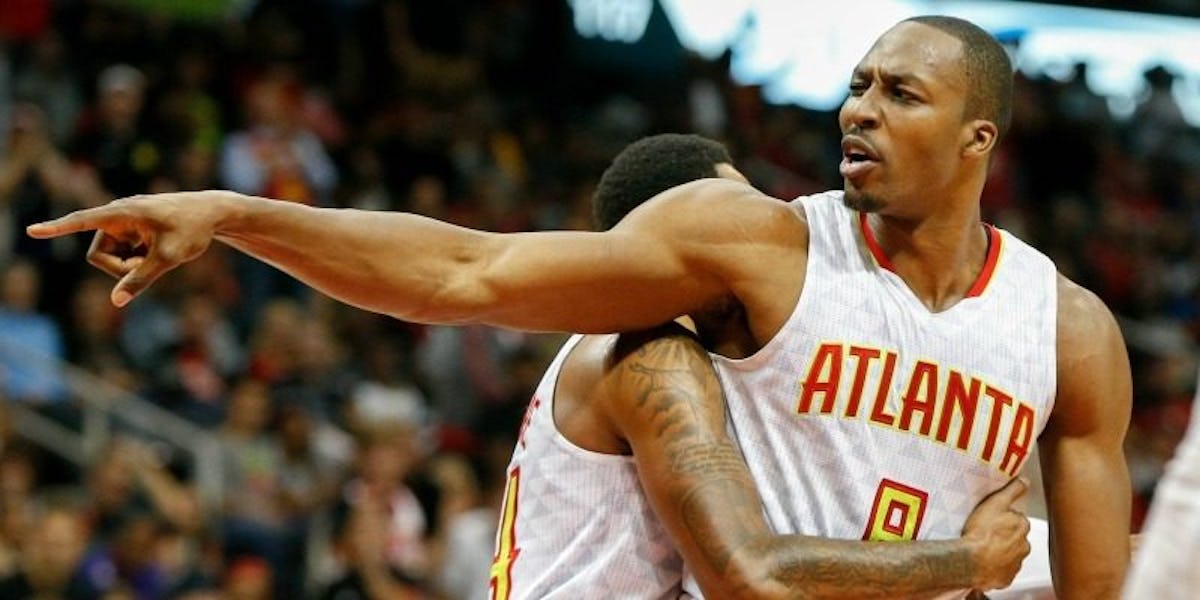 Dwight Howard Gets Called A 'Bitch' By Lakers Fan, Challenges Him To Fight
USA TODAY Sports
I think it's safe to say there's no love lost for Dwight Howard in Los Angeles.
The former Lakers center, who now plays for the Atlanta Hawks, returned to LA when his Hawks took on the Lakers in a Sunday evening clash.
The Lakers beat the Hawks 109-94, but the real fight occurred between Dwight Howard and a heckling fan in the Staples Center crowd.
In the video above, you can see Dwight Howard casually making his way toward the locker room when a fan appears to call D12 a "bitch." The 30-year-old center clearly wasn't having it, and you can see him go from 0 to 100 real quick.
Hollywood loves D12… Dwight Howard had to be held back by security after a fan called him a b---h https://t.co/Zh15ipYrU8 pic.twitter.com/Q4LvuzO7Wt — Bleacher Report (@BleacherReport) November 28, 2016
You can hear an irate Dwight Howard say,
Come back here and say it! Come back here and say it! Come on back here! Come on!
Damn, Daniel! You can't see the guy who called Dwight Howard a "bitch" in the above video, but do you have any doubt D12 would've murdered this guy if he was actually allowed to come to the Atlanta Hawks locker room?
Eventually, Howard was ushered away from the crowd, presumably by a member of the Staples Center security team.
Now, I'm in no way, shape or form defending this fan's behavior, but is it possible he was just following in the footsteps of the greatest Los Angeles Laker of all time?
See, back when Dwight Howard played for the Houston Rockets, the team he joined right after playing for the Lakers, a video surfaced of Kobe Bryant calling his former teammate "soft" and a "bitch ass n***a."
Yeah, shit got really real.
Side note: It looks like Nick "Swaggy P" Young really enjoyed Kobe's rant.
In any event, shame on this fan for using the safety of an expensive ticket and a good seat to shell out insults and call Dwight Howard a "bitch."
Shut up and let the players play, fam.
Citations: Dwight Howard Challenges Lakers Fan Heckling Him to Do It To His Face (The Big Lead), David Kency (Twitter)