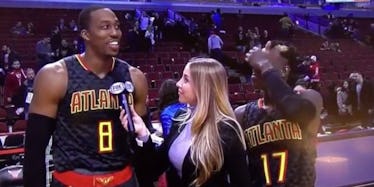 Dwight Howard Kept Making 'D' Jokes In An Interview, Is Still 15 Years Old
Streamable
Arguably, the one thing that's plagued NBA superstar Dwight Howard the most throughout his career is his immaturity.
When it comes to being dominant on the court, there are few who are more physically gifted than the 6-foot-11-inch, 265-pound Atlanta Hawks center.
However, when it comes to being mentally tough, well, perhaps NBA legend and Dwight Howard's former teammate Kobe Bryant put it best.
If you can't make it out in the clip above, Bryant called Howard a "soft motherfucker."
Wednesday night, evidence of Howard's immaturity surfaced once again.
The 31-year-old was in the middle of a postgame interview following the Hawks' 119-114 win over the Chicago Bulls, and, as you can hear in the video above, he decided to start dropping dick jokes while talking about the team's defense.
Speaking with a FOX Sports reporter, Dwight Howard said,
Our D was good tonight, so we got to make sure our D stay good.
Sure, "D" could stand for defense, but as you can see from Howard and his teammate Dennis Schroder's reaction, that simply wasn't the case here.
Howard, being the mature 15-year-old he is, continued,
It's very important, but it starts with the D. We got to make sure we keep playing good defense.
It was good of Dwight to drop the word "defense" in at the end of his interview because, you know, he wasn't really talking about defense the entire time.
Come on, man. For crying out loud, you're 31 years old! You're not some rookie fresh out of college!
Also, doesn't this look on the FOX Sports reporter's face just say it all? Like, FML so hard for having to put up with this crap on a near-nightly basis.
The Hawks are 27-19 this year, but don't be surprised when 15-year-old Dwight Howard and his dick jokes let Atlanta down again in the playoffs this year.
Citations: Dwight Howard Had The Time Of His Life Making "It's All About The D" Dick Jokes Last Night (Barstool Sports)