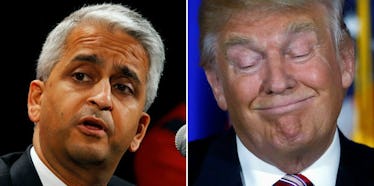 Did US Soccer Just Say A Donald Trump Presidency Would Mean No World Cup?
REUTERS
As they headed into their second Copa America group stage match, the United States Men's National Team knew a loss would mean they'd be automatically eliminated from the tournament they're hosting.
How awkward would that be?
The 100th Copa America is being contested in 10 different cities across the United States, and it's the first time the tournament is taking place outside of South America.
A US elimination just two matches into their Copa America Centenario campaign would be about as bad an impression as one can make on the global stage.
The USMNT defeated Costa Rica 4-0 on Tuesday night, which means their Copa America campaign is still alive and kicking.
Aside from American players, coaches and fans, another person who's breathing a huge sigh of relief Wednesday morning is US Soccer Federation President Sunil Gulati.
Why, you might be asking, is Gulati more relieved than others following the US win over Costa Rica?
Before the USMNT stepped out on the pitch at Soldier Field in Chicago on Tuesday night, Gulati addressed several members of the media. Oddly enough, though, his pre-game comments appeared to have more to do with Republican presidential nominee Donald Trump than the United States' chance of survival in Copa America.
In his remarks, Gulati appeared to suggest if Donald Trump is elected president, the United States will have a very slim shot at hosting the 2026 World Cup. The 56-year-old US Soccer head reportedly said,
The world's perception of the United States is affected by who is in the White House. It has some bearing, for sure. Having somebody in the White House [who] gives the country an outward-looking view and a personality that is more easier accepted around the world is positive for the United States and then more specifically for hosting events here and for our general image from a sports perspective, but it's far beyond sports. A co-hosted World Cup with Mexico would be a little trickier if Secretary Clinton is not in the White House. Can it help you or can it hurt you? Both.
It's unclear whether or not Gulati was prompted for the above statement, but according to reports, he was asked to elaborate on his comments and make clear if he thought Donald Trump becoming president would directly result in the United States not even bidding to host a World Cup.
The US Soccer Federation president reportedly answered,
We are going to bid for a World Cup if we think we are going to be successful. Whether we can be successful in a World Cup bid or an LA Olympic bid is affected by the world's view of our leaders and not just leaders of the soccer federation. …Russia and Qatar are hosting events, so there are a lot of considerations that go into bid, and that's why I am not willing to say we would not bid in one case and would in another. We are not going to make a decision about bidding until we know what the rules are, until we know who can bid, until what we know the size of the event is, but most critically in all of that, what the rules are in bidding. Would we love to host a World Cup in the future? Of course, yes, but only if we have a clear understanding and there is a fair and transparent set of rules.
I understand it's become all the rage to bash Donald Trump, but why, in the moments before the USMNT is set to take the field in a crucial Copa America match, is the head of US Soccer talking about presidential nominees, the 2026 World Cup and the Olympics?
Gulati's only focus should've been on his team's match against Costa Rica. A US loss and subsequent elimination from Copa America would've been embarrassing, devastating and, quite frankly, unacceptable.
Gulati's claim if Donald Trump is elected president the US won't be awarded the World Cup is also kind of baseless. I mean, I don't know if you've been paying attention, but FIFA, even after the removal of Sepp Blatter, is one of the most corrupt organizations on the planet.
Just a few days ago, FIFA's new president, Gianni Infantino, had to defend himself against reports he's seeking an annual salary in excess of £1.4 million.
That's just a small sprinkle of the corruption and greed issues soccer's global governing body still faces.
How about the fact the 2018 World Cup will be played in Russia? A country reportedly building an army base near Ukraine to prepare for a standoff against NATO.
Look, Sunil, if Vladimir Putin can get a World Cup, so can Donald Trump. FIFA clearly doesn't give two shits about a country's political policy and agenda when analyzing it's World Cup bid.
The 2022 World Cup? Oh, that's in Qatar, where the World Cup stadiums are being built on the backs -- literally -- of migrant workers from surrounding nations.
Despite multiple reports of unsafe working conditions and claims an estimated 4,000 workers will die by the time the World Cup takes place, Qatar reportedly refuses to acknowledge even one death has occurred as a direct result of working conditions.
But Donald Trump will be the reason the US doesn't get awarded a World Cup? I'm not buying it, and you shouldn't either.
I'm not sure why Sunil Gulati reportedly said what he said, but maybe it was an attempt to shift the focus away from the US-Costa Rica match. If the USMNT lost Tuesday night, it might have cost Sunil Gulati his job.
The United States isn't just another host nation, and if they got bounced from Copa America after just two matches on home soil, it would've sent shockwaves through the soccer world.
It would be the type of defeat that might even damage a nation's shot at hosting a World Cup.
Citations: US Soccer President Says Trump Presidency Would Hurt Country's Shot at Hosting World Cup (Complex)