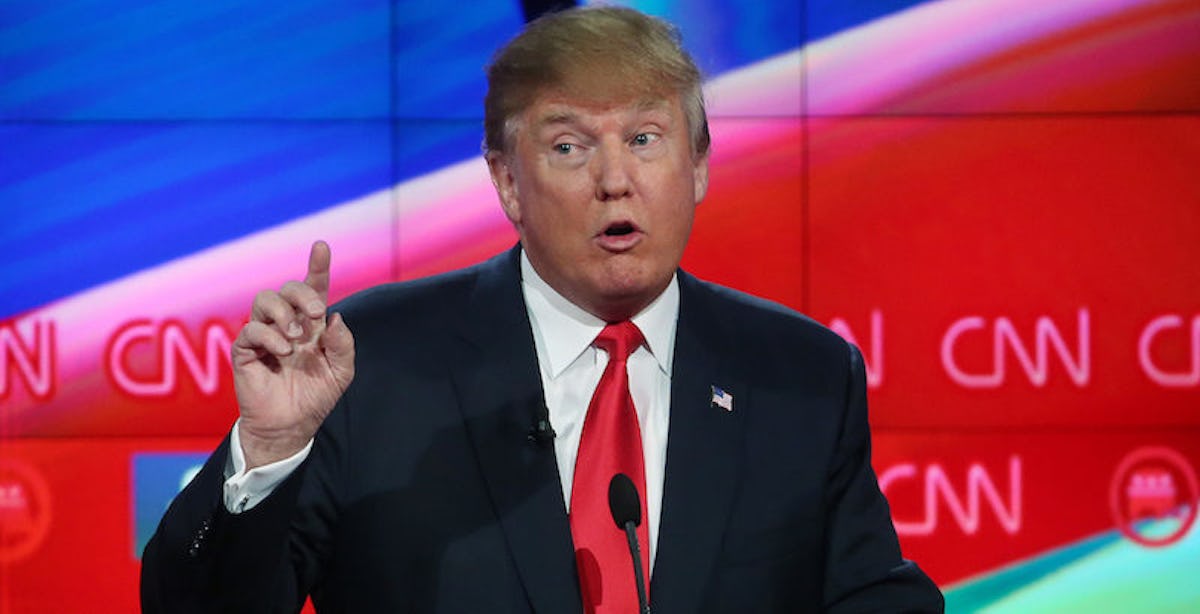 Trump Claims NFL Has Gone 'Soft' In Rant About Helmet-To-Helmet Hits
Getty Images
While speaking to a group of supporters in Reno, Nevada recently, presidential hopeful Donald Trump complained the NFL, like the United States, went "soft."
Specifically, Trump was most likely referring to Saturday night's Steelers-Bengals game, in which the Bengals took a late penalty after Vontaze Burfict appeared to deliver a vicious head shot to Steelers wide receiver Antonio Brown.
Trump reportedly said,
So I'm watching a game yesterday. What used to be considered a great tackle, a violent head-on [tackle], a violent -- if that was done by Dick Butkus, they'd say he's the greatest player. If that were done by Lawrence Taylor -- it was done by Lawrence Taylor and Dick Butkus and Ray Nitschke, right? Ray Nitschke -- you used to see these tackles and it was incredible to watch, right?
He continued,
Now they tackle. 'Oh, head-on-head collision, 15 yards.' The whole game is all screwed up... Football has become soft. Football has become soft. Now, I'll be criticized for that. They'll say, 'Oh, isn't that terrible.' But football has become soft like our country has become soft.
It sounds like Trump wants us to forget about all the research on concussions and chronic traumatic encephalopathy (CTE). It sounds like he wants us to ignore the fact players are committing suicide as a possible result of the brain injuries they suffered back when the game was "incredible."
Trump rambled on, saying,
It's become weak and you know what? It's going to affect the NFL. I don't even watch it as much anymore. The referees, they want to all throw flags so their wives see them at home. 'Oh, there's my husband.' It's true. 'He just broke up -- he just gave a 15-year penalty on one of the most beautiful tackles made this year.' Right?
Wrong, Mr. Trump. Your callous disregard for player safety echoes your radical rhetoric in the political arena.
Donald did have praise for one part of the NFL, though. Any guesses?
Trump concluded,
It's boring -- although I love Tom Brady. I gotta tell you. I do love Tom. He's a great guy. But it's different. But it's become soft and our country has become soft.
Looks like we have to make the NFL great again by ignoring every advancement and scientific finding of the past 20 years.
Citations: Donald Trump says NFL has 'gone soft' just like America (The Guardian)