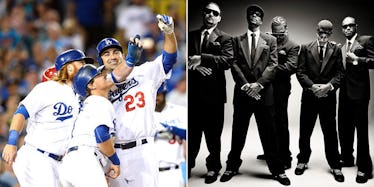 Crossroads: The 2015 Dodgers Are The Bone Thugs-N-Harmony Of Baseball
Facebook
The Dodgers are at the crossroads, a la Bone Thugs-N-Harmony.
In many ways, these should be the glory days for the boys in blue. Their payroll is approaching the size of our country's defense budget and they haven't showcased two pitchers this good (Greinke and Kershaw) since "The Sound Of Music" was playing in movie theaters and Lyndon B. Johnson was in office.
LA has always been famous for its pitching prowess, but for some reason, the team decided to flip the script this year in August.
The Dodgers have thrown 25 no-hitters in their history, leading the major leagues, and have now been no-hit 19 times, which also leads the major leagues.
This month, Mike Fiers, a Milwaukee Brewers cast-off previously best-known for being the guy who ruined Giancarlo Stanton's season, and Jake Arrieta, the former Oriole-turned-Cy-Young-darkhorse, each tossed no-hitters against the Dodgers; punctuated by blanking Jimmy Rollins, Chase Utley and Justin Turner (in varied order).
This is especially embarrassing for a team trying to win a World Series.
"I asked five of their players when they were on base," Adrian Gonzalez told the Los Angeles Times Sunday. "They all said it should have been a hit. But you know? He threw a great game. Hats off to him. It goes down as a no-hitter. But at the end of the day, the only thing that matters is that we lost. How it happened doesn't matter."
For all the guff, head honcho Don Mattingly has actually improved this team's win total in each of his first four seasons as manager (82, 86, 92, 94). The last Dodgers manager to do that four years in a row was Walter Alston from 1968 to 1971.
And this is still a first-place team.
Don is under contract through 2016, but many fans have grown weary of his quick hooks and peculiar lineup activity.
Since the Giants aren't doing themselves any favors, the two NL Wild Card spots will soon be claimed by the Cubs and Pirates. If that happens, LA will need to win the division.
But maybe Don has this all under control. Maybe he's just keeping the fans on their toes in a summer that has seen tensions rise higher than the temperature at the stadium.
So, where do they go from here?
Last week, Clayton Kershaw said it may be time to panic. In actuality, it may now be time for a full-blown panic attack. The team will have their chance to prove their resiliency soon, as they'll be playing 26 of their final 32 games against intra-division opponents.
"When you have some games or situations that don't go well, it really will speak to the character of your club, how you respond to that," Mattingly also told The Times. "You want your team fighting out of that, not just take it ... If you can't play with a sense of urgency now, you're in real trouble."
Joc Pederson is the easiest guy to ridicule, as he's hitting just .153 in the second half of the season.
But he's not alone. Yasmani Grandal is hitting .227, Jimmy Rollins is at .228 and Justin Turner has posted a .259 clip in the same timeframe.
The bullpen has similarly provided little relief. The Dodgers' pen sports a 5.24 ERA in the second half and has relinquished more hits (115) than innings pitched (101).
As the calendar rolls forward, LA has now entered the "last hurrah" territory of the season. Which team will we see step forward?
Whether it's Bizzy, Krayzie, Layzie, Wi$h or Flesh-N-Bone, this up-and-down Dodgers team has embodied all the members of the popular 90s rap group. The Bone Thugs are here, but we'll soon find out if the Harmony is, too.