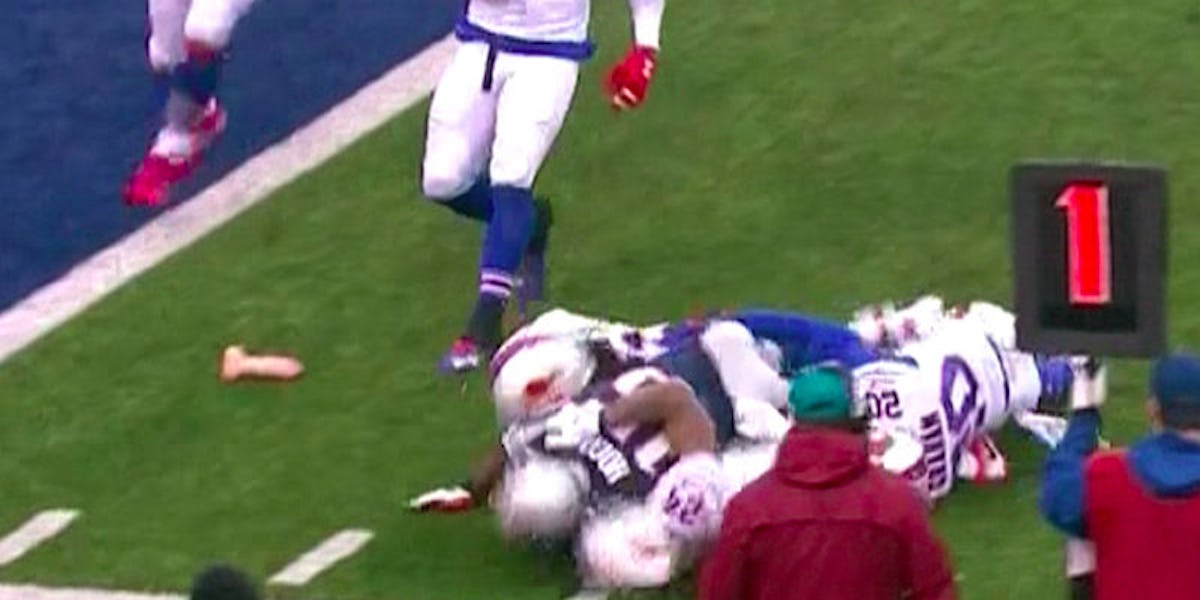 This Giant Dildo Was Thrown Onto The Field By A Savage Bills Fan Interrupting Game
CBS
There's a flag on the field. Oh wait, hold up. Nope. No, that is a large dildo.
During the most recent matchup between the New England Patriots and the Buffalo Bills, one Bills fan decided to spice things up and experiment a bit by throwing a dildo into the mix.
First down and goal? More like first down and hole. Seriously, this dildo throw might have happened on a first and goal, but it felt more like thirst and inches.
Before this event, the only meme of a mascot the NFL had was Left Shark. Now, there's Buffalo Dildo?
I don't know... The name seems to flow off the tongue, don't you think?
However, before the city of Buffalo issues a citywide manhunt for this sex toy-lobber, know that the perp has been identified on Twitter as @hub_nation.
In fact, his Twitter bio lists himself as a "dildo thrower." Pretty soon, I'd expect that title to be added to his LinkedIn account.
Here's a video of the dildo toss gone viral.
Dildo launch from @hub_nation pic.twitter.com/nfL4tI9UVG — Dillon Hayes (@Dillon_Hayes) October 30, 2016
Whoa, he's got a pretty good arm. Maybe it's just me, but I think this guy could have a career with the Bills, no? Maybe Pornhub?
I mean, he did manage to get it all the way onto the 1-yard line.
Regardless, I think we can all agree that the saddest part of this whole video is when the referee has the somber task of having to kick the dildo off the field.
Looks like someone's going to need to take long bath after the game. Heck, I'd even want to buy new shoes if this happened to me
What sex toy will be tossed onto the football fields of America next? Fleshlights? Vibrators? Anal beads?
In this case, time will have to tell, I suppose.
Citations: Bills Fan Throws Dildo On The Field During Bills-Patriots Game (BroBible)