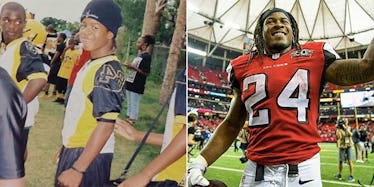 How Devonta Freeman Went From The Miami Projects To The NFL Gridiron
Instagram
In their 50-year history, the Atlanta Falcons have never won the Super Bowl, but you can certainly understand the February optimism following the team's current undefeated run.
Atlanta, under first-year head coach Dan Quinn, is led by franchise quarterback Matt Ryan and game-changing wide receiver Julio Jones, but the secret to the Falcons' success is what lies under the hood.
If you ask Devonta Freeman's teammates, coaches and family to describe him in one word, you'll probably hear the words "grit" and "grind" more than any others.
And rightly so.
Atlanta's running back is only 23 years old, yet it's taken him just 21 career games to become one of the best backs in the National Football League and the driving force behind the Falcons' second-best start in franchise history.
A closer look at Freeman's story explains so much of why the second-year back has been able to mature so quickly.
This is how the league leader in rushing touchdowns went from surviving in one of the roughest projects in Miami to dominating on football's biggest stage.
Devonta Freeman, the oldest of seven children, grew up in Miami's Liberty City neighborhood.
He got his first job at the age of 12 and hasn't stopped grinding since.
He played for the Optimist Club Pop Warner team, where he was coached by Uncle Luke from the 2 Live Crew.
Freeman played high school football at Miami Central.
Despite being a zero-star recruit, Freeman was discovered by Florida State head coach Jimbo Fisher.
During his three years at FSU, the Miami native rushed for at least 500 yards each season.
He also put in that work off the field so he could one day live out his NFL dream.
During Devonta's sophomore year, his cousin died in a gun fight in Miami's Pork 'n' Beans projects.
In his next and final season in Tallahassee, though, Freeman rushed for over 1,000 yards and won a national championship.
He declared for the 2014 NFL draft, where he was selected by the Atlanta Falcons with the 103rd overall pick.
During his rookie year, Freeman was stuck behind Steven Jackson as Atlanta's number two running back...
...but he stayed focused and entered this past offseason as the team's number one option.
Even when Freeman was surpassed in training camp by a rookie, he knew his time would come sooner rather than later.
Freeman has also dealt with adversity off the field, like losing his aunt at the young age of 24 (he honored her by switching his jersey number)...
...and coping with his grandmother battling, and successfully beating, breast cancer.
Now, Freeman has the number one spot in Atlanta and is quickly becoming the number one back in the NFL.
He leads the NFL in rushing touchdowns, has carried the Falcons to a perfect 5-0 start and has become a leader on and off the field.
Citations: Falcons' Devonta Freeman has his teammates' full attention (ESPN), Rookie Devonta Freeman already beat odds (ESPN), The Grit to Take on the World (MMQB), devontafreeman (Instagram), Falcons' Devonta Freeman inspired by grandmother's breast cancer fight (ESPN), Devonta Freeman (Pro Football Reference), Devonta Freeman (College Football Reference)