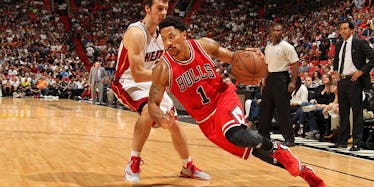 Having Derrick Rose Back For The Playoffs Runs Deeper Than The Game
Facebook
If you were watching last night's game, your television may have read game two of the Chicago Bulls vs. Milwaukee Bucks 2014-2015 season playoffs.
The announcers may have welcomed a series of different players, All-Stars even, along with where they're from and the positions they play.
You may have heard strategic game plans and analyses on what players to watch for and the importance of bench play in the series.
All this may have very well been the case, had you, indeed, tuned in to see the Bulls and Bucks play last night -- that is, unless you are from Chicago.
For everyone in the Windy City, there was only one thing to pay attention to; one person to see: their native son, Derrick Rose.
The Bulls are now 2-0 after last night's 91-82 win over Milwaukee, and they are well on their way to the second round of the playoffs.
But, most importantly, they are doing it with star Rose on the floor.
It is his first postseason appearance in three years since tearing his ACL during the 2011-2012 playoffs, so this win holds a special meaning for Rose and Bulls fans alike.
Anyone who is remotely familiar with the NBA knows of the flash and flavor the 6'4" point guard brings to the game.
His athleticism is rare; his poise is beyond his years, and his heart is even bigger than his game.
He was the 2010-2011 league MVP — being the first to do it in a Bulls uniform since, well, you know who — making him the patron saint of the city from whence he came, a title that has come with a heavy price.
The saga of Rose's recovery and return has been an emotional one to say the least, with every return having its own setback.
The initial comeback from his ACL injury was cleverly titled, "The Return," and it quickly turned into "The Injury Pt. II."
He tore the medial meniscus in his right knee during the 2013-2014 season.
The plot only thickened when Rose decided to sit out of the remainder of that season (including the playoffs), even though team doctors determined the injury wasn't a season-ending one.
One would think his precautions and slow pace would be rewarded. However, Rose became the subject of ridicule when he decided not to rush back to the floor, and the media went as far as calling him "damaged goods."
It was a low blow from a city whose impatience with Rose and his recovery proved to be more selfish than sympathetic.
Then, Rose had a second meniscus tear in February in the same right knee, which sent many, including myself, into complete disbelief. Yet, even when both his body and fan base failed him, he still returned.
That is why Rose's appearance in this year's playoffs is so important.
To come back from three knee injuries and three setbacks in three years, and to make a successful return to the same stage where the nightmare started, is something many believed would never happen.
It's a testament of his fortitude, and it provides a spark of inspiration that encourages everyone to tackle the obstacles in their lives.
His journey is simply inspiring, so much so that Powerade teamed up with Rose to piece together a "Power Through" commercial narrated by the one and only Tupac Shakur.
Laced with lines from the poem, "The Rose That Grew From Concrete," it serves as a perfect ode to Rose and his triumph over struggle, a struggle that kids from the inner city of Chicago know all too well.
It's only fitting Rose represents Chicago, not only to preserve the house that Mike built, but to be a beacon of hope for kids who don't see many make it out of where he, and they, come from.
The City of Chicago knew about Rose before Memphis scouted him in high school, before the NBA deemed him as prospect and before the MVP voters saw him as valuable. The city is Rose, just as he is a part of them.
As the playoffs progress, hopefully you see what the city of Chicago sees: a kid with drive, who can handle and rise above whatever defense is thrown his way.