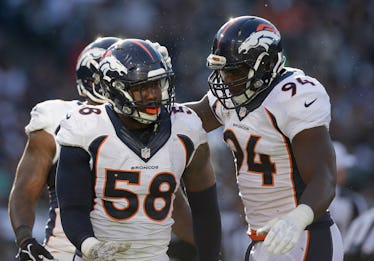 The Denver Broncos Just Won Super Bowl 50 Because Of These 3 Plays
Getty Images
For the third time in franchise history, the Denver Broncos are Super Bowl champions.
Sunday at Levi's Stadium, Peyton Manning silenced the doubters, and Denver's defense played a perfect game in route to a 24-10 victory in Super Bowl 50.
There were plenty of highlights throughout, but these three plays were the keys to Denver's win.
Von Miller completed a strip sack on Cam Newton, resulting in a touchdown for the Denver Broncos.
The Broncos defense scored the first touchdown of Super Bowl 50: https://t.co/gSHr7qfV4A pic.twitter.com/ClCwtKgHRN — SB Nation (@SBNation) February 8, 2016
With his team up 3-0, Broncos linebacker Von Miller ripped the ball from Cam Newton, which led to an easy Denver Broncos' touchdown and a 10-0 lead.
TJ Ward intercepted Cam Newton with Carolina on the move.
T.J. Ward intercepts Cam Newton. pic.twitter.com/6HdOxKjNxa — ⓂarcusD (@_MarcusD_) February 8, 2016
Von Miller forced his second fumble of the game, sealing a Super Bowl 50 win for the Broncos.
Von Miller causes Cam Newton to fumble pic.twitter.com/t6I1FA4rj0 — ⓂarcusD (@_MarcusD_) February 8, 2016
Von Miller all but ensured his status as Super Bowl 50 MVP with his second strip sack of the game.
Now, let the champagne flow, Denver.