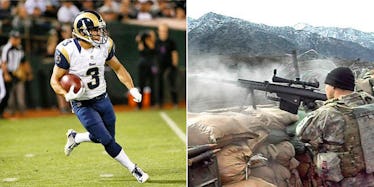 How This NFL Player Went From The Combat Field To The Football Field
Instagram
On October 3, 2009, while serving a second tour of duty in the Army, Daniel Rodriguez was injured in the Battle of Kamdesh.
The fight was one of the most devastating occurrences in the Afghanistan war, and although Rodriguez sustained bullet fragments and shrapnel in his shoulder, neck and legs, he continued to fight for the next 12 hours.
Two weeks ago, Rodriguez was in uniform for his first NFL preseason game with the St. Louis Rams.
We had rookie @DanielRod_83 mic'd up last night. Check it out! WIRED: http://t.co/3DLwxqiIhm https://t.co/fsbtnCQCEc — St. Louis Rams (@STLouisRams) August 16, 2015
His story, which began with the sudden death of his father and a promise to a friend who ended up being killed in battle, is one that is both remarkable and amazing.
Speaking with stlouisrams.com, Rodriguez said,
After my second deployment in Afghanistan, I had made a promise to a friend that I was going to get out and try to play.
And after his Army discharge in 2010, that's exactly what he did.
Here's how Daniel Rodriguez went from US Army soldier to NFL wide receiver.
Following his father's sudden death, Daniel Rodriguez joined the United States Army.
He served in two tours of duty, in Iraq and Afghanistan, and received a Purple Heart and Bronze Star for his services.
Following his discharge in 2010, he made a highlight video to attract attention from college coaches.
Clemson University's Dabo Swinney took notice and invited Rodriguez to campus as a preferred walk-on.
At Clemson, Rodriguez played in 37 straight games and scored his first touchdown at home against The Citadel.
He graduated as a two-time All-ACC Academic in 2014.
But before he received his diploma, Rodriguez was honored on Military Appreciation Day...
And he wrote his autobiography, "Rise: A Soldier, a Dream, and a Promise Kept," which became a New York Times bestseller.
Rodriguez didn't get drafted by an NFL team out of college, but he did receive a call from the St. Louis Rams with another invitation to be a walk-on.
It started with a two-day trial, and now, the 27-year-old undrafted free agent is fighting for a final spot on the Rams' 53-man roster.
He's showing that even though he's 5'8" and 180 pounds, he can still mix it up with the NFL's best.
And since he knows his football dream might end at any moment, he's making sure to embrace every opportunity...
Whether that's catching passes on the field or posing for a pic with the POTUS and FLOTUS.
Rodriguez also had the pleasure of meeting Terrell Owens...
And Super Bowl champion Russell Wilson.
Rodriguez was also inspired by a visit from the Cowboys' Jason Witten, who met him while he was serving in Afghanistan.
There's no doubt posing for pics with dignitaries and teammates is cool...
But make no mistake, Daniel Rodriguez is 100 percent focused on achieving his NFL dream.
Citations: The Daniel Rodriguez Story (St. Louis Rams), Daniel Rodriguez (Daniel Rodriguez), Daniel Rodriguez (NLF)