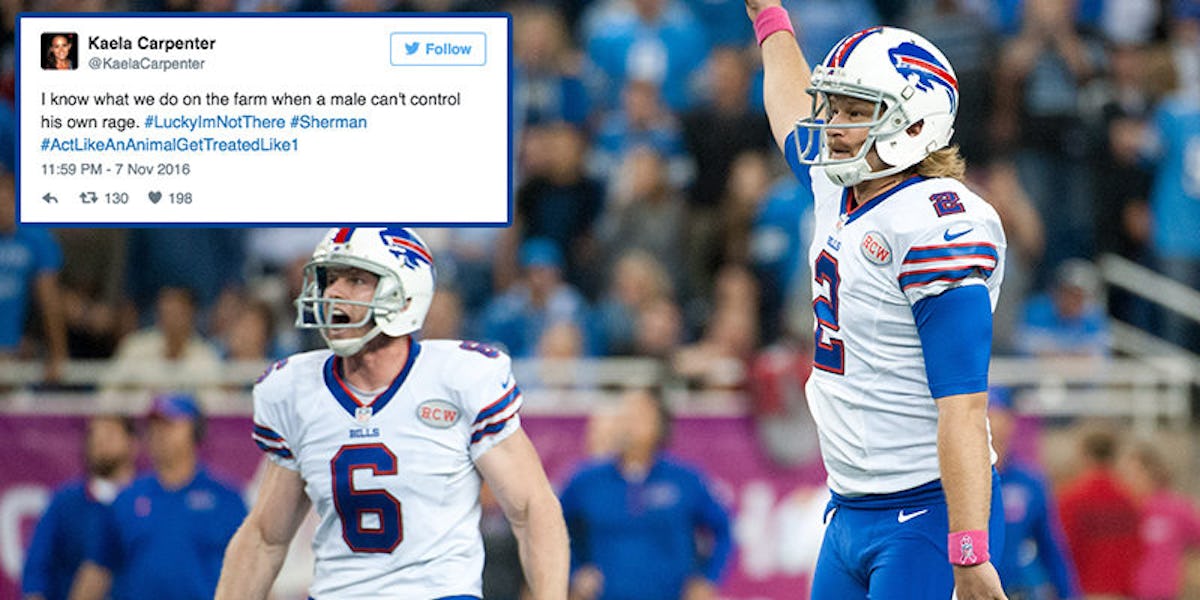 Bills Player's Wife Tweets 'Animal' Richard Sherman Should Be Castrated
USA TODAY Sports/Twitter
Look, I know today's focus should be solely on Election Day, but we have to talk about what started as a controversial play on Monday Night Football and escalated to an NFL player's wife suggesting another player should be castrated.
With time expiring in the first half of Monday night's Bills-Seahawks game, Buffalo's kicker Dan Carpenter lined up and prepared to attempt a 54-yard field goal.
Before the ball was snapped, Seattle Seahawks cornerback Richard Sherman jumped way offside and started barreling toward Dan Carpenter.
None of the officials blew a whistle, and Richard Sherman continued the play and hit Carpenter right in the knee, causing the 30-year-old kicker to go down injured.
Now, there are many who think a whistle should've been blown immediately because Sherman jumped offside so early, but an offside flag wasn't thrown until after Sherman laid a pretty big hit on a somewhat defenseless Carpenter.
Then, there were those, including Bills head coach Rex Ryan, who were beyond pissed a roughing the kicker flag was never thrown at all.
Worst non-call in NFL this season. That this was not a "roughing the kicker" call is embarrassing. Richard Sherman should have been ejected pic.twitter.com/Fh5JUr2Oqp — Mike Heller (@HellerSports) November 8, 2016
According to FOX's Mike Pereira, the roughing the kicker flag never came because the play ceases to technically exist once the offside flag is thrown.
Ryan and Carpenter might've been pissed about the play, but neither went as far as Dan Carpenter's wife, Kaela, who suggested via Twitter late Monday night Richard Sherman should be castrated like a male "animal" who "can't control his own rage."
Excuse me?
I understand Kaela Carpenter being worried about her husband's safety, but there's a line, and she crossed it by a mile.
For one human being to call another human being an "animal" and suggest he should have his testicles cut off is beyond disgusting.
Naturally, Kaela Carpenter is taking some heat on Twitter for her vial words.
I'm disgusted, and I hope Mrs. Carpenter realizes what she's done, sooner rather than later.
Citations: Kaela Carpenter (Twitter), Refs miss clear penalty in wild end to first half of Bills-Seahawks (Sports Illustrated)