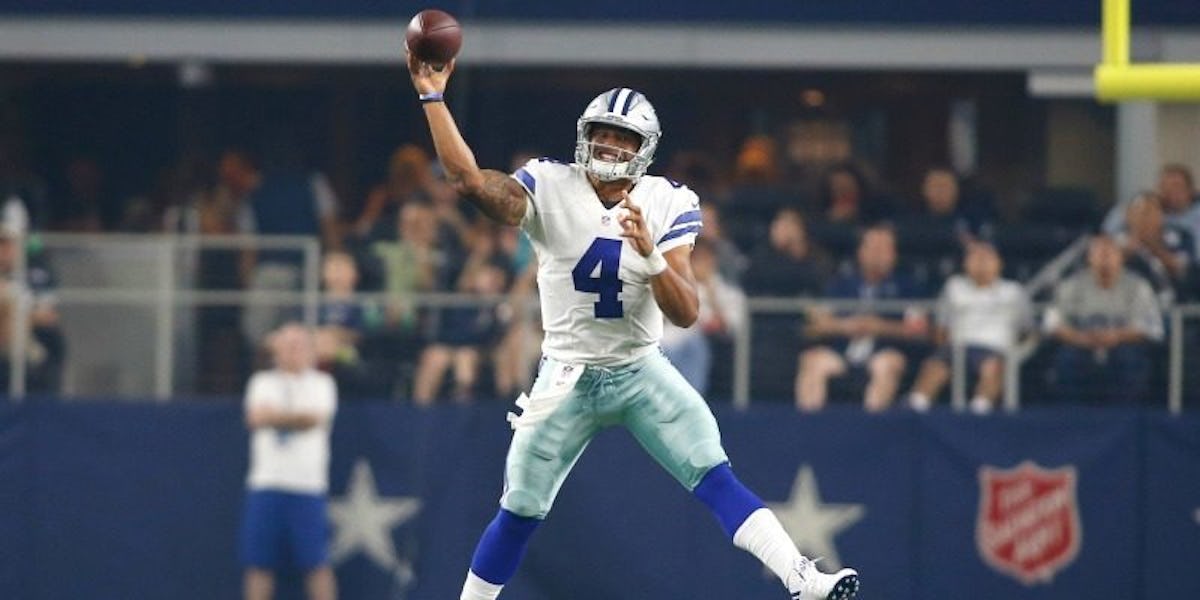 Dallas Cowboys QB Dak Prescott Is Going To Be Really Good, Isn't He?
USA TODAY Sports
In his first three preseason games as an NFL quarterback, Dak Prescott threw for a combined 454 passing yards, five touchdowns and zero interceptions.
That stat line is extremely impressive for a rookie quarterback, especially one taken as the 135th pick in the fourth round 2016 NFL Draft, but it's what Dak has shown behind closed doors that has everyone in the Dallas Cowboys' locker room buzzing.
Sunday, when Dak Prescott replaces Tony Romo as the Cowboys' Week 1 starter against the New York Giants, he'll become just the fourth rookie quarterback in the last 30 years to be drafted outside of the top 100 and start a season opener.
Comparisons have already been drawn between Prescott and Russell Wilson, another quarterback who started for his team in Week 1 as a rookie, despite not being drafted in the first two rounds, but I doubt even the Super Bowl champion would've been prepared for a situation like this.
Tony Romo suffered a broken bone in his back during the Cowboys' preseason game against the Seattle Seahawks on August 25. Reports suggest he could be out anywhere from six to 10 games.
Two days after Romo's injury occurred, the man who was taken as the eighth quarterback overall was named Dallas' starting quarterback for Week 1 of the 2016-17 NFL season.
One possible reason seven other quarterbacks were drafted ahead of Dak Prescott could be the DUI charge he was served with while he was a student at Mississippi State.
Prescott, who was reportedly acquitted of all charges of speeding and drunk driving this past July, was apparently accused of driving 16 mph over the speed limit and admitted to drinking at least one beer earlier in the evening.
It appears that ordeal and the subsequent apparent hit to his draft stock humbled Prescott and made him more prepared for the challenges that lie ahead. In short, the 23-year-old comes off as more of a veteran than a rookie.
And he's already drawing comparisons to dominant quarterbacks of years past.
If Dak Prescott performs even remotely well for the Cowboys at the start of this season -- and if the preseason is any indication, it certainly looks like he will -- you can point back to a meeting he had with the Dallas Cowboys' brass on January 27, 2016 as one of the main reasons he even got a chance at playing in the NFL.
It was the day before the Senior Bowl, and after Cowboys head coach Jason Garrett, offensive coordinator Scott Linehan and quarterbacks coach Wade Wilson spent a few moments with Prescott, they knew he was something special.
Speaking on that brief meeting, Wilson said,
By far Dak was the most assertive and confident player in there. Whatever that 'it' factor is, he had it above the other three. Very confident and very poised in the interview process.
That "it" factor was on display during one of the Cowboys' practices earlier this summer, when Prescott proved very quickly he's the one who's currently in control in Dallas.
Per Peter King, of MMQB.com,
In an 11-on-11 period late in practice, the offense had 10 seconds left to score, and Prescott was the quarterback with the first unit. He passed to Dez Bryant, and Bryant was supposed to out of bounds immediately so the clock would stop or go to the ground so the offense could call a timeout. But Bryant tried to score instead, was stopped, and the clock ran out. Prescott ran to him and said words to this effect: 'We know you're the best receiver in the world and you MIGHT score, but we can't take that chance. You gotta use your head and get the clock stopped.' That's a rookie, talking to Dez Bryant. And Bryant, to his credit acknowledged Prescott was right. Prescott grew a lot in the eyes of the starting offense, and the coaches, that day.
You learn a lot about a young quarterback by the way he interacts with his teammates, particularly the veterans.
In addition to a strong arm and the above mentioned necessary intangibles, Prescott also has legs, something Tony Romo, for all his talents, does not possess.
Back to Dak | Dak Prescott & Drake Highlight Music Video Full video here: https://t.co/O1w1ZlVKUq pic.twitter.com/FkiOgtEBsb — NFL Humor (@NFLHumor) August 30, 2016
Prescott also has one of the strongest offensive lines in the league, a top running attack with fellow rookie Ezekiel Elliott and veteran Alfred Morris and one of the top wide receivers in the game in Dez Bryant at his disposal.
Veteran tight end Jason Witten, who is entering his 14th year in the league, will also be a much-relied-upon asset for the rookie quarterback.
You've seen what he can do on the field, as well as what his coaches think, but what about the man himself? Speaking on his impending first NFL season, Dak Prescott said,
My mindset is, I want to be a starter for this organization one day and a starter in this league for a long time. I'm going to continue to push myself to make myself the best I can each and every day.
Right now, he doesn't need to be the "best," but don't be surprised if Dak Prescott goes on to be really good, this season and many seasons to follow.
Citations: Dak Prescott Is Not Your Average Week 1 Starting Quarterback (FiveThirtyEight), Dak Prescott's first impression drew Cowboys in from the start (ESPN), Players, coaches already trust Cowboys QB Dak Prescott to perform (ESPN)