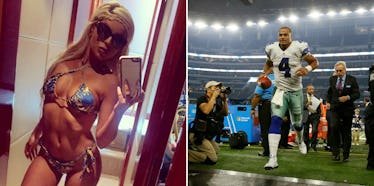 Dak Prescott Is Winning Off The Field With His Smokeshow Girlfriend
Instagram/USA TODAY Sports
Following back-to-back wins, the Dallas Cowboys are 2-1, good enough for third place in the NFL's NFC East Division.
Right before the start of this young season, things seemed all doom and gloom for the Cowboys following the news their starting quarterback, Tony Romo, would be out for anywhere from six to 10 weeks.
Enter rookie quarterback Dak Prescott.
The former Mississippi State gunslinger was selected by the Dallas Cowboys as the 135th overall pick in the 2016 NFL Draft. Now, he's leading "America's Team" and continuing to impress and develop on a weekly basis.
As soon as he took his first professional snap in Week 1, I'm sure Dak Prescott must've been feeling like he was living a dream, but he really is the quarterback of the Dallas Cowboys.
That role comes with its fair share of perks, I'm sure, and it appears Dak is already reaping those benefits because he's reportedly dating former Texas Playboy model Dallas Nicole Parks.
Get 'em, Dak Prescott!
Judging from the video above, it certainly appears Prescott's number one fan is Dallas Nicole Sparks. Here's a closer look at Cowboys quarterback Dak Prescott's (rumored) smokeshow girlfriend.
Dallas Cowboys rookie quarterback Dak Prescott is lighting up the NFL, and he's reportedly found himself a new girlfriend.
Prescott is rumored to be dating Dallas Nicole Parks, a former Texas Playboy model.
By the looks of it, Parks is Dak Prescott's number one fan!
You can watch the 23-year-old Prescott play every Sunday, but what do we really know about his new boo?
Apparently, Dallas Nicole Parks attended the University of Texas at Austin and graduated from New Braunfels High School before that.
According to her Playboy Miss Social profile, Dallas Nicole Sparks is also 23 years old, and she's quite the world traveler.
She's lived in England and Germany, and she's seen plenty of other countries.
It appears Prescott's new girlfriend likes old-fashioned gentlemen, the type who open car doors and treat women like princesses.
Dallas Parks isn't a fan of close-minded people and dudes with no manners, so you know Dak Prescott is as good a dude off the field as he is a player on it.
One look at Parks tell you Dak Prescott is very much living the dream of so many American dudes.
I'll say this, though, we've seen plenty of NFL players hook up with incredibly hot women and then seen their on-field performance take a dive.
Not blaming the women, or even saying that's going to happen to Dak, but it should just serve as a reminder to keep football first.
I'm a Giants fan, but keeping doing your thing, Dak Prescott.
Citations: Dak Prescott's Hot Girlfriend Shows Her Support For The Cowboys By Showing Off Her Booty On Instagram (Bro Bible), dallasnicoleparks (Instagram), Dallas Parks (Playboy Miss Social)