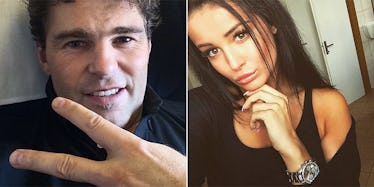 Meet The Model Who Tried To Blackmail An NHL Legend With Post-Sex Selfie
Entering his 22nd season in the National Hockey League, Jaromir Jagr has literally seen it all.
The 43-year-old has played for eight different NHL teams, made nine All-Star game appearances and lifted two Stanley Cups.
So it came as little shock when the Czech international shutdown a would-be blackmailer with the same poise and calmness he has displayed throughout his entire career.
@wyshynski http://t.co/GQhEcLRplY pic.twitter.com/fJl28MLkVZ — Rob (@uf0s8mycat) September 20, 2015
Jagr reportedly told this woman to do her worst. He couldn't care less if the world knows whom he's getting in bed with.
This is 18-year-old Czech model Kateřina Provazníková, the woman who messed with the wrong professional athlete.
Katka Provazníková and Jaromir Jagr both hail from the Czech Republic.
They both make their careers in front of the cameras.
Recently, Katka tried to blackmail Jagr with a post-sex selfie.
But the current Florida Panther shut her down quicker than a goalie making a save.
And as the story unfurled, more and more details came out about this Czech model.
Like the fact that she has (had?) a boyfriend...
...who also happens to be a hockey player.
Dominik Rudl is a defenseman for the Czech National Junior Team.
But it looks like Katka was looking for a player with a little more experience.
Only, she wasn't counting on Jagr's experience to blow up in her face.
Now, it might be a while before Kateřina Provazníková wants to show her face in public.
And that could prove costly, considering she makes her career in front of the camera.
Dominik, couldn't you tell Katka was trying to be a free agent based on her social media?
Now, Katka's bedroom selfies are probably going to look a lot more like this.
Bonus: If this isn't irony, I don't know what is.
Citations: Model Tries to Extort $2,000 From Jaromir Jagr With Post-Sex Selfie, Fails Because He DGAF (Yahoo!), Here Are Some More Photos Of The Chick Who Tried To Blackmail Jagr, Katka Provaznikova (Barstool Sports)