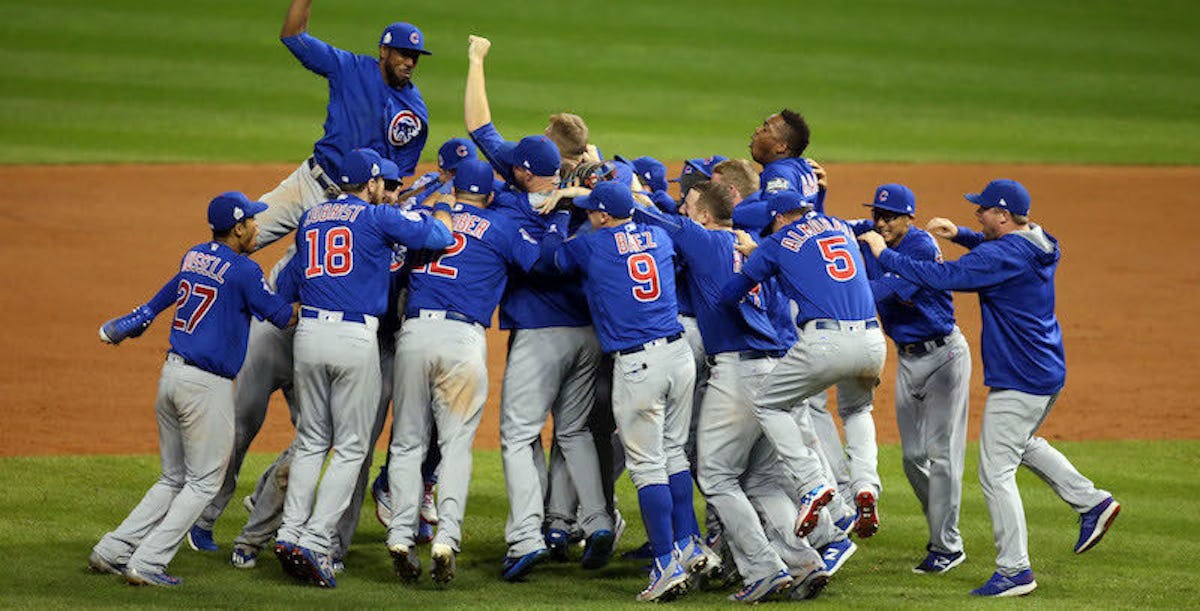 Guy Who Predicted World Series Result Says Apocalypse Is Coming In Eerie Tweet
REUTERS
Wanna hear something freaky? A guy predicted the outcome of the World Series on Twitter — TWO YEARS AGO.
A man by the name of Gio aka @RaysFanGio pinned his apocalyptic tweet last night that read,
2016 World Series. Cubs vs Indians And then the world will end with the score tied in game seven in extra innings #apocalypse
It was posted in November 2014 and was one hell of a guess because, last night, the Chicago Cubs took home the World Series after a 108-year drought.
Just as Gio had predicted, the game went into extra innings. The Cubs eventually beat the Cleveland Indians 8-7 after a 10th-inning rain delay.
It's been a long time coming for the Cubs, so obviously the sass was real on social media.
People were having fun with their ideas of what the world was like back when they last won like 10 million years ago.
To put it in perspective, there were 46 US states the last time the Cubs won.
Fans blame a curse summoned by bar owner William Sianis in 1945. Sianis was at a game in '45 with his pet goat, as one does, but apparently was asked to leave because the goat smelled, again, as one does.
Nobody insults Sianis' goat and gets away with it. He allegedly sent a telegram to the Cubs' owner stating,
You are going to lose this World Series and you are never going to win another World Series again. You are never going to win a World Series again because you insulted my goat.
He died in 1970, but the apparent curse lasted 71 years.
It was a night of celebration for fans, and even non-fans like President Barack Obama were taking off their hat to the team. He tweeted,
It happened: @Cubs win World Series. That's change even this South Sider can believe in. Want to come to the White House before I leave?