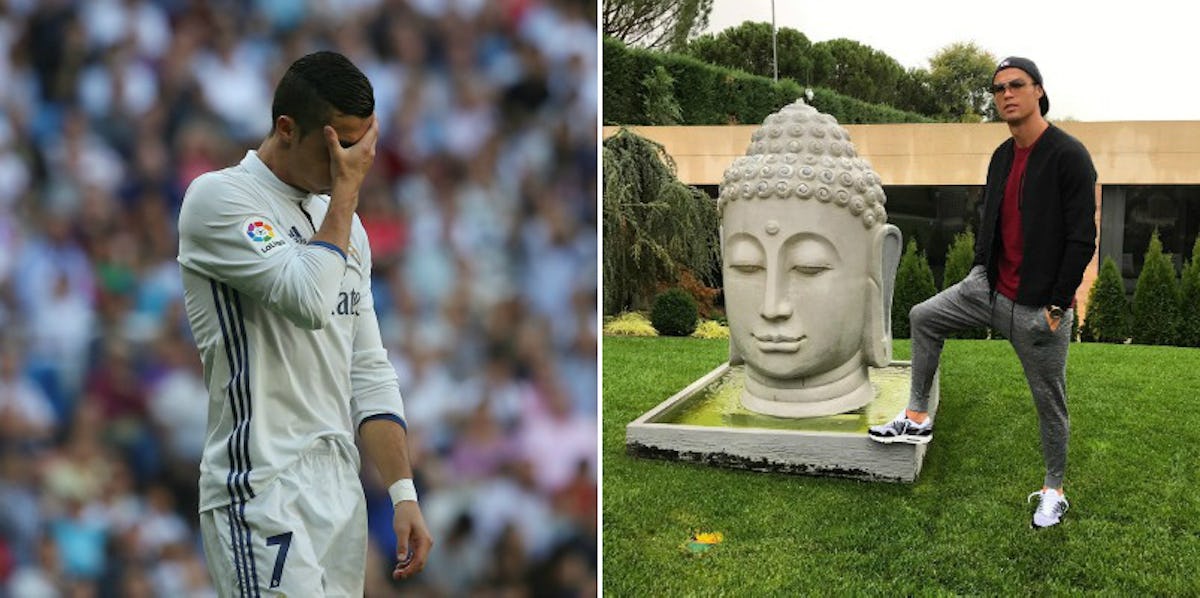 People Are Pissed At Cristiano Ronaldo For His 'Disrespectful' Instagram Pic
REUTERS/I
If you're a fan of Cristiano Ronaldo, Real Madrid or the Portuguese national team, then in your eyes, the striker can probably do no wrong.
The 31-year-old scores goals when he wants, dates and hooks up with the hottest women in the world and makes all of it look absolutely effortless.
However, Cristiano Ronaldo has found himself in hot water after posting what he had to assume was a pretty innocuous picture on Instagram.
Spot the faux pas?
Well, in the above photo, Ronaldo has his foot on a religious Buddhist statue, and despite the photo getting 1.6 million likes in less than 12 hours, many of his followers were pissed at the "disrespectful" post.
One follower wrote,
Please respect buddha mr ronaldo.. how ever u become popular but not higher than buddha ok.
Another said,
Pls don 't do this. We r buddhist. My god. My trust. but under of your legs. It's so rude.
It appears some of Cristiano Ronaldo's followers think the soccer superstar should've known better, saying,
Hi dude but its basic knowledge that you cannot put your foot on a religious statue.
A CR fan said,
I'm pretty sure as an educated football player you should have known which kind of behavior can be provocative.
Another follower quipped,
This is not cool at all man. I know ur not Buddhist but plz respect for other religions.
Dang. I mean, I get why people are offended, but you have to assume Ronaldo made an honest mistake here.
It wasn't all negative, though, with many of the Portuguese international's supporters coming to his defense. One user wrote,
It is just an #statue stop blaming #ronaldo for what he did. It is just a #photo. If any one have any problems get the fuck out of insta and never come back.
And this CR follower gave a pretty accurate take on the situation as a whole, saying,
His foot isn't even on the statue. People will find any reason to get pissed off!
I think he gets it, guys.
Citations: Cristiano Ronaldo accused of offending Buddhists with 'disrespectful' Instagram post (The Telegraph)