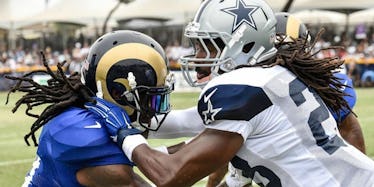 Dez Bryant Punched Right In The Face During Crazy Rams-Cowboys Brawl
Facebook
The reported third fight of the day between the Cowboys and the Rams during a joint practice on Tuesday looked more like something you'd find on WorldStarHipHop than on the NFL Network.
Plenty of players on both sides got into the scuffle, with mini fights breaking out all over the field. However, it looks like Dallas' star wideout, Dez Bryant, got the worst of it.
Bryant was in the middle of the fray -- with no helmet on -- when he got popped square in the face by Zach Laskey.
@DezBryant takes a shot from #Rams FB Zach Laskey during the brawl. Video credit @arnoldpayne #WFAACowboys pic.twitter.com/L3qPVgWqp2 — Joe Trahan (@JoeTrahan) August 19, 2015
After the fight, Dez tweeted he wished he took a "cheap shot" at Laskey, but he quickly deleted the tweet.
looks like Dez Bryant deleted the tweet so here's a screenshot pic.twitter.com/ly7lip5iWq — Jordan Heck (@JordanHeckFF) August 19, 2015
Then with both benches rushing onto the field, it was on like Donkey Kong.
What a thrill for the fans in attendance, who quickly saw the action get closer to them than they ever expected.
Huge fight at Cowboys-Rams practice... @NBCDFW pic.twitter.com/Jvk3P0XvrA — Pat Doney (@PatDoneyNBC5) August 19, 2015
Question: Why didn't someone on the Cowboys staff hold Dez Bryant back when there was a chance?
88. When you are talking to Jerry Jones but needed in a fight pic.twitter.com/7uckuhEKKU — Jon Machota (@jonmachota) August 19, 2015
In case you were wondering, these two teams do NOT play each other during the 2015 regular season, which is probably why they had their "Royal Rumble" yesterday.
Citations: Giant brawl breaks out during Rams-Cowboys practice, nearly spills into crowd (SB Nation)