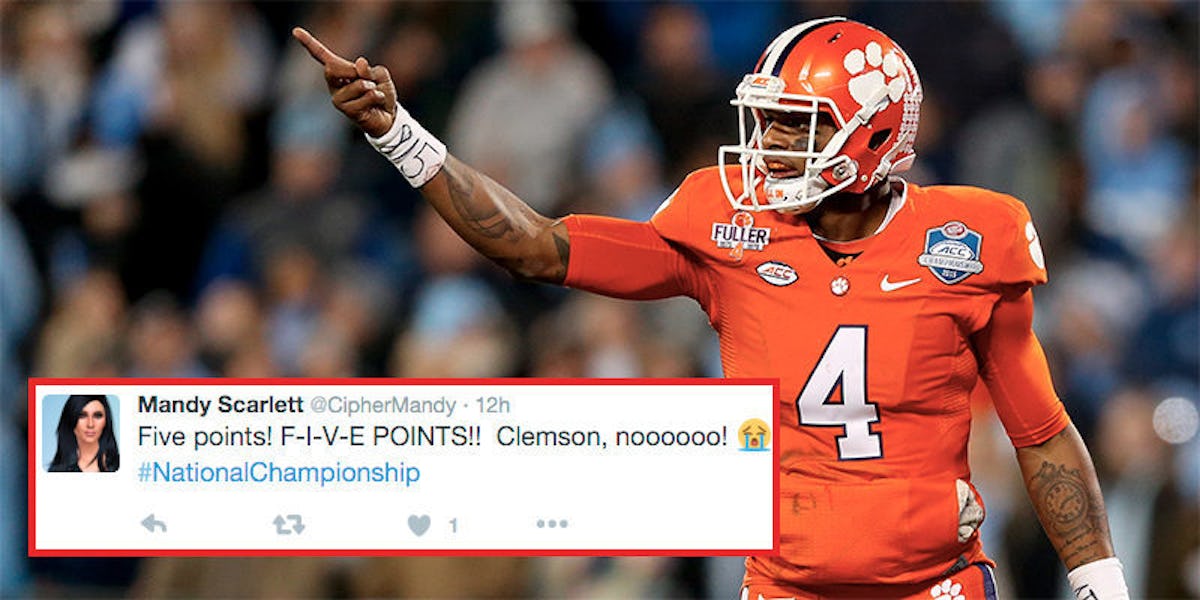 A Meaningless Touchdown Cost Bettors $10 Million, And People Were Pissed
Getty Images
The Clemson Tigers' last-minute touchdown in their College Football Playoff National Championship loss to the Alabama Crimson Tide was practically worthless to their cause, but costly to so many others.
According to ESPN, over $10 million worth of bets in Las Vegas alone swung from one side of bettors to the other after Clemson's Deshaun Watson threw a touchdown pass with 12 seconds remaining. The touchdown didn't affect the game's outcome, but it dramatically changed the title game's betting picture.
Clemson pulled off what can only be described as an excruciating backdoor cover, a situation when a team scores points in the final minutes of a lost cause, affecting the outcomes of bets.
In the Tigers' case, Jordan Leggett's late-scoring touchdown reception brought the score to 40-45, covering bookmakers' seven-point spread for the game.
After the touchdown, the entertainment ensued.
How many millions of ppl are sick that Clemson scored that last TD cuz they bet on Bama to cover the spread tho?! #NationalChampionship — Jonathan Jones (@Two_Six) January 12, 2016
Not everyone was laughing, especially not anyone who actually lost money on the game.
While the touchdown was a last-minute godsend for some...
...others were devastated and began to question life.
That backdoor cover — Mike Parmiter (@chickenparmmm) January 12, 2016
There were some people who were mad...
The worst feeling in betting sports is the Backdoor cover. — Brian (@IceCreamClones) January 12, 2016
Others who were REALLY, REALLY MAD...
Five points! F-I-V-E POINTS!! Clemson, noooooo! #NationalChampionship — Mandy Scarlett (@CipherMandy) January 12, 2016
...and then there were the people who knew the point swing was coming, which made the loss even worse.
The backdoor cover, what a phenomenon.
Citations: Clemson shifts millions in Vegas with late cover in loss to Alabama (ESPN)