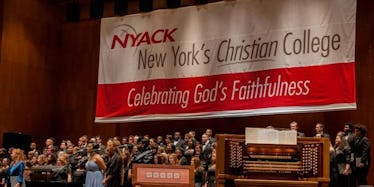 Former Coach Accused Of Abuse Also Invited Porn Star To Talk To His Team
Former Nyack College women's softball coach Kurt G. Ludwigsen is currently facing charges of sexual abuse after the women he coached alleged he touched and kissed them while he worked for the school.
And if that wasn't enough, the 43-year-old is also under fire for reportedly bringing an adult film star to give his players a "life-coaching" speech.
OK, then.
The speaker, Allie Haze, 28, claims there was "nothing sexual" about her motivational visit and she was only brought in as an "empowering woman" for the players to meet.
At the time, Haze was reportedly working at a strip club near Nyack so the appearance made perfect sense to her.
She said,
I didn't think it was weird. I've spoken at colleges before. I've spoken at USC twice. I have a lot of colleagues who've spoken at colleges also.
Apparently, Haze and Ludwigsen worked together previously when the former coach was heading up a phone service that connected adult film stars with their fans.
The fact Nyack is known as "New York's Christian College" is the cherry on top of this giant mess.
Citations: Christian college softball coach facing sex abuse charges — brought porn star to talk to team (Raw Story), Porn star recruited by creepy Nyack College softball coach says sit-down with team was 'regular' girl talk, not sexual (New York Daily News)