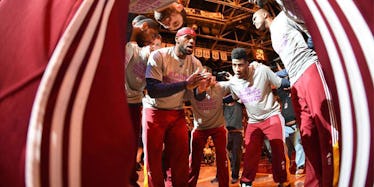 The Cleveland Cavaliers Are Back And All-Star Weekend Will Prove It
Twitter
This weekend's NBA All-Star Game, the 64th edition, is set to take place in NYC.
The only storyline that matters (for my city, at least) is that it's a coming-out party for Cleveland and for the Cavaliers. The Cavs will have two representatives in the contest: Kyrie Irving and, of course, LeBron James.
Irving and James have been teammates on All-Star Weekend before, but as members of the Cavaliers and Miami Heat, respectively.
Cavaliers in recent history have had good luck on All-Star Weekend. Last year, Kyrie Irving was the game's Most Valuable Player, with 31 points and 14 assists. James won the award in 2006 and again in 2008.
In 2013, Irving won the "3-Point Contest," the first Cavalier to win the competition since Mark Price won in 1993 and 1994.
Price, one of the most underrated players in league history, played on what many would call the second-best Cavalier team in history, with Brad Daugherty, Ron Harper and Larry Nance. This year's team could and should be the best ever.
It is worth noting Kevin Love won the three-ball contest in 2012, and James Jones won in 2011. Both are now Cavaliers. Scary, huh?
The Cavs are coming off of a franchise record 12 wins (tie) and are arguably the hottest team in the NBA.
After four dismal seasons, luck changed for the city of Cleveland on July 11, 2014. Lee Jenkins of Sports Illustrated broke the story that King James would be coming home.
I don't need to tell the story; the whole world was watching number 23 (err, number 6) that day.
I remember where I was: at my apartment letting my dog out at lunch time. After watching the news and constantly re-loading Twitter all day, the moment I looked away, it broke. Then, so did the Internet.
When I read LBJ's essay, I cried -- like, legit tears. I cried tears of happiness for my city and its fans. Cleveland deserves a winner.
What followed the announcement was nothing short of amazing.
Instagram turned into a slideshow of LeBron James. Every single person on Facebook (literally, every person in the world) changed their cover photos and profile pictures to LBJ.
Cleveland was re-energized -- like, swag on 100 -- instantly.
Bankers downtown looked to see their Oxford Wingtips had magically morphed into LeBron's. The whole city of Cleveland could run faster and jump higher, like Benjamin Franklin Rodriguez. And, they could all dunk like "The King."
Cleveland wants a winner. But, honestly, it would just be nice to have some fun again.
With the Johnny Football and Josh Gordon drama, the Browns season ended up being more of a disappointment than the years when they only won four games.
Frankly, it sucked. The Tribe has a nice looking squad coming back, including Cy Young award-winner Corey Kluber. Look, I love baseball, I do; there is something nostalgic about it. Memories of the mid-90s Indians playoff runs are some of my best ever.
But, I have to tell you, when LeBron and Kyrie take over a game late, there isn't anything much more exciting in sports right now.
Here's the thing: I know LeBron and Kyrie don't need a coming-out party; their records speak for themselves. But, hey, I can be excited, can't I? You all should be excited, too. Those two will be a sight to see for years to come.
This weekend in the Big Apple, Cleveland will be showing the country why they should be more than a little worried.
LeBron's and Kyrie's for my hooligans in Brooklyn!