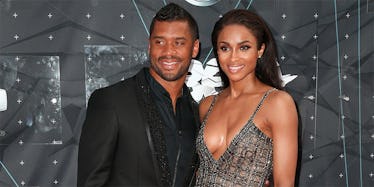 Ciara And Russell Wilson Pack On The Social Media PDA With Love Messages
Getty Images
In the wake of the Seahawks' playoff loss to the Panthers over the holiday weekend, there are many questions we could ask.
Will Marshawn Lynch stay in Seattle? Is the team's Super Bowl window closed? Can Russell Wilson continue to perform at all-world levels?
Valid concerns, sure, but all of those questions take a back seat to the most important of 'em all: Is there any limit to how mushy Ciara and Wilson can get on social media?
If the pair's post-game exchange of PDA on social media was any indication, the answer is an emphatic "no."
First up was Ciara with a salute to the fallen hero that is Russell Wilson.
And, of course, there was no way Wilson was going to let his girlfriend's message go without a response. How's this for reciprocation?
Sweetest thing I've ever known. I'm so grateful for the loving, sweet, standup woman you are.. Love you #TrueLovehttps://t.co/7YTIGwN64q — Russell Wilson (@DangeRussWilson) January 18, 2016
If it was hard to sift through all the fluff, let me break it down for you. Russell Wilson and Ciara are two loving human beings who are in love mostly because they love all the love each shows toward the other.
Did we mention they're all about love?
"Do everything in love." 1 Corinthians 16:14 NIV — Russell Wilson (@DangeRussWilson) January 18, 2016
#Love.
Citations: Ciara and Russell Wilson share sappy messages for each other after Seahawks loss (For The Win)