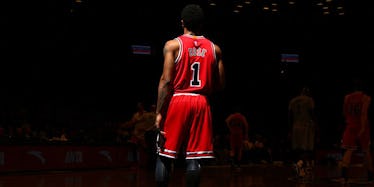 Windy City Woes: Chicago And Derrick Rose Don't Deserve This Disaster
Tumblr
The last few seasons for the Chicago Bulls have been a series of nightmares with a recurring theme: Derrick Rose is hurt.
After winning the MVP award in 2011 followed by back-to-back knee injuries, this was supposed to be the year when Rose played an entire season without any issues.
This was supposed to be the season when he showed the world that he was still the "one-man army" from a few seasons ago. Tuesday night, though, that all changed.
Throughout the course of the season, there was the inevitable knee soreness, yes, but Rose still managed to play (and start) in 46 games. He was so close.
He showed flashes of his former self with 32 points against Washington, 30 points (and a game-winner) against Golden State, followed by a 30-point game against Cleveland.
Statistically, however, it was one of his worst seasons as a pro.
Everything happens for a reason and no matter how much good you do in this world, the unfairness of life always prevails.
In a perfect world, Rose would be still be at full health, having won a second MVP and possibly, an NBA title. Well, in a perfect world, my dad would still be alive.
But, life loves the curveball.
"BREAKING: Derrick Rose will undergo surgery for meniscus tear in right knee. pic.twitter.com/NDmjfn8rqN" — SportsCenter (@SportsCenter) February 25, 2015
When the Bulls announced (out of the blue) that Rose had a torn meniscus in his right knee and will undergo his third knee surgery, my heart sank like the rest of the hearts in Chicago. Whether or not you are a fan of the Bulls, or even of Rose, you never want to see a guy get injured.
Especially a young, 26-year-old man. When he suffered his first injury in the first game of the playoffs, there was #TheReturn. Following his second knee injury, just 10 games into the 13-14 season, there was #TheComeback. Now?
I don't even know what we call it. If I had to choose, it would be #TheWait.
Rose is on a path very similar to Brandon Roy's. For those who don't remember, Brandon Roy was, at one point, the third-best shooting guard in the game, behind Kobe Bryant and Dwyane Wade.
He was clutch; he had a chip on his shoulder the size of Cambodia and he was a three-time NBA All-Star by the time he was 25. He was one of the Top 8 Shooting Guards of the Post-Jordan Era.
He could score from anywhere on the floor and put up points in a then-sluggish Nate McMillan offense.
Unfortunately, he was medically forced to retire after four surgeries and having zero cartilage left in both knees. By no means am I saying that Rose will retire, but he does have to think about his future.
It doesn't matter how much money he makes. At the end of the day, the guy will want to be able to run around with his son and not feel like he has the knees of an 80-year-old.
He has a decision to make: repair or remove his torn meniscus?
Repairing the meniscus is, for many reasons, the smarter choice for a young guy because it provides a better chance at playing longer. Removing the meniscus, though, that's another story.
It's a story with which D. Wade is familiar. Wade had his meniscus removed 11 years ago while at Marquette, and openly regrets his decision. He said:
"My knee problems and the things I've dealt with started from that. That was [11] years ago and technology was different and the way you approach things was different.
"At that moment, if everyone looked ahead and said, 'Dwyane's going to have a 20-year career, maybe we should do something different,' maybe I wouldn't have [knee issues]. "At that time, it was to get me back on the basketball court and do what is best."
Nobody is the same, but if you can fix something, it's better to do so than just throw it out and wonder "what if" down the road.
Despite Jimmy Butler's improvement, the revitalized career of Pau Gasol and a now-healthy Joakim Noah back in the lineup, Rose is still Chicago's most dynamic player — healthy or not.
To the organization, he is irreplaceable. Hope remains, but the real question is whether or not he will be able to bounce back, not only physically, but mentally, the next time around.
"Man feel bad for D.Rose! Keep your head up homie and stay strong G!" — LeBron James (@KingJames) February 25, 2015
"Feel so bad for Drose. One of the most genuine superstars out there, even better person..." — Jamal Crawford (@JCrossover) February 25, 2015
As the current Bulls team stands, we're looking at 38 minutes of Kirk Hinrich. (Anyone else miss DJ Augustin or Nate Robinson?)
Rose is the key to Tom Thibodeau's offense. Without him, the Bulls become stagnant. They lost their most accomplished fourth-quarter scorer who can keep up with the Kyrie Irvings and the John Walls of the Eastern Conference.
So now, we wait. We wait and see whether or not he comes back in time for the playoffs, if we have to wait until next season to see whether or not he's a focal point of an offense, or if he gets lost somewhere down the line and ends up becoming a role player.
Now, we wait and see if this recurring nightmare will ever change its theme.