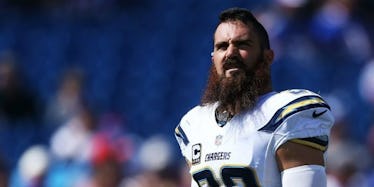 Chargers Fine Player For Watching 7-Year-Old Daughter's Halftime Dance
Getty Images
The latest example of the NFL's zero chill policy doesn't involve an illegal shoe or hairstyle -- it's far worse.
The San Diego Chargers reportedly fined Pro Bowl safety Eric Weddle $10,000 for staying on the field at halftime of the team's December 20 home game to watch his 7-year-old daughter, Brooklyn, perform a dance with the Chargers' cheerleaders.
Nothing more important than this. Especially 0 halftime adjustments in a blowout win at home. Worth the nonsense. pic.twitter.com/splYf7BWUa — DEC Management (@davidcanter) December 29, 2015
Weddle, who played with the Chargers for his entire nine-year NFL career, is also banned from attending the team's final game in Denver this Sunday as a result of being placed on the injured reserve list.
In a statement, Chargers head coach Mike McCoy reportedly said,
We have a policy here, and a situation took place two weeks ago at our stadium. So yes, we did fine him. It's an organizational call. We have a club policy here, and there are certain things we have to do at halftime to make adjustments, and things like that. That's why we did that.
The Chargers are 4-11 this season.
Initially, it appeared Weddle wasn't looking to make a big deal of this situation, but his agent, David Canter, went public with his client's punishment after it was decided Weddle wouldn't be allowed to attend the team's final game.
Team didn't announce injured players couldn't travel to Denver until after putting @weddlesbeard on IR. Said plane is to small. Hysterical — DEC Management (@davidcanter) December 28, 2015
Canter reportedly said,
If you do bad things to good people, you deserve to have your dirty laundry aired in the limelight. Eric's done nothing but give nine years to the Chargers organization -- his heart, his soul, his body.
Weddle will be a free agent at the conclusion of this season, but his heart will always remain in San Diego.
I LOVE YOU SAN DIEGO!!!!!! — Eric Weddle (@weddlesbeard) December 21, 2015
Citations: PreviousNext San Diego Chargers fine star safety Eric Weddle $10,000 for staying on field at halftime to watch his daughter, 7, perform dance routine (Daily Mail)