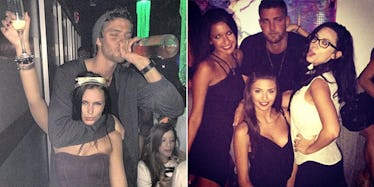 Chandler Parsons Is Actually The Biggest Playboy In The NBA
Instagram
If you're a tall white man in America, congratulations!
You've won the genetic lottery and the world is literally yours for the taking. But seriously, somebody tell me I'm wrong.
I mean, just ask Elite Daily humor writer Connor Toole who posed as an NBA draftee. All he did was show up with a beard and suit, be tall, be white and, now, his life is now officially lit!
But when you also have the athletic ability to go with the look and happen to be the small forward for the Dallas Mavericks who just signed a $46 million deal, let's just say the females flock to you.
Chandler Parsons is one of the most interesting players in the NBA and not just because he's real on the court.
He's real with women more than anything.
Of course, he tried that whole girlfriend thing in the past.
But Chandler simply could not cuff for very long.
Plus, this just kept happening to him every time he went out.
He gets groupie love everywhere, and that's a fact.
Of course, sometimes, it comes back and bites him in the ass.
And he'll get exposed on Twitter DM like this.
But he can just rebound with a supermodel like Nina Agdal.
When he's not playing ball or at the club, Chandler Parsons is modeling with Ashley Sky.
Besides his teammates, he doesn't chill with other dudes.
OK, so he hangs around other dudes, but we all know who this girl chose out of them!
It was rumored Chandler Parsons was dating Kendall Jenner.
But I'm not sure if Chandler Parsons even remembers if he was dating Kendall Jenner or not.
For most guys out there, we have to work twice as hard with half the talent just to get a quarter of the results.
But this is the life his forefathers fought for him to have!
Chandler Parsons will go down as one of the greatest ballers of all time.
But still, I think his former teammate James Harden has something to say about all of this.