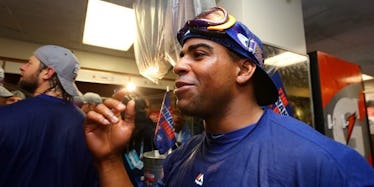 Game Over: Céspedes And Syndergaard Trot Into Training Camp On Horseback
Getty Images
It's over, guys. Yoenis Céspedes just broke my computer by arriving at the New York Mets training camp in his most ratchet mode of transportation yet.
Forget the customized Polaris Slingshot. Forget the tricked-out Lamborghini. Céspedes and teammate Noah Syndergaard just trotted into the parking lot on horseback. Seriously.
As a finale, Yoenis Cespedes and Noah Syndergaard arrived to Mets camp this morning on horseback pic.twitter.com/TWOvHSau1i — Matt Dunn (@MattDunnSNY) March 1, 2016
Where does one even get a pair of horses in Port St. Lucie, Florida?
I guess there's nothing left to say, really, so we'll just ride out on Noah Syndergaard's words of wisdom:
Howdy, cowpokes.
If this is spring training, imagine what the regular season has in store.