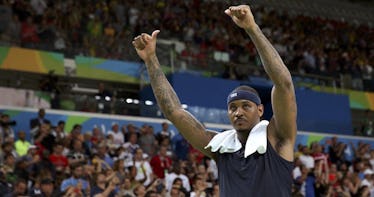 Carmelo Anthony Gets Emotional About The State Of America After Winning Gold
REUTERS
The US men's Olympic basketball team cruised its way to a third-straight gold medal on the final day of the 2016 Rio Olympics, easily defeating Serbia with an impressive final score of 96-66.
The victory also netted captain Carmelo Anthony his record third-straight Olympic gold, and the all-star had some emotional words to share after the victory in Rio.
Melo said,
In spite of everything that's going on right now in our country, we gotta be united. And I'm glad I did what I did. I stepped up to the challenge, but this is what it's about and representing our country on the biggest stage that you can be on. America will be great again. I believe that. We got a lot of work to do, but it's one step at a time, and I'm glad we represented it in the fashion that we did.
This is not the first time Anthony has spoken about the state of America. Back in January, he, along with fellow NBA superstars LeBron James, Dwyane Wade and Chris Paul, opened the 2016 ESPYs with a moving message on racial injustice in the United States.
Carmelo has been leading by example in Rio de Janeiro, Brazil.
First, the internet had fun with his reaction to the younger team USA players singing along to Vanessa Carlton on their airplane to Brazil. Later on, he was seen playing some pick-up basketball with local kids in a Brazilian favela.
Thanks for everything, Melo.
Citations: Carmelo Anthony Apologizes To Vanessa Carlton For Being A Big Grumpus (Deadspin)