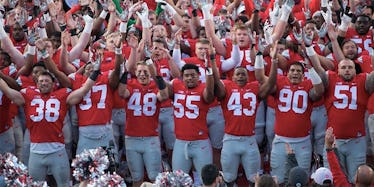 Sorry, Buckeyes: 4 Teams That Will Get Screwed By The College Playoffs
The selection process of getting into the college football playoff is a double-edged sword.
On one end, everyone gets an open shot to make the elite four, and on the other end, the way each team wins plays a factor into getting the chance to be a part of the elite grouping of college football royalty.
Although some teams are undefeated and ranked in the top five, I think three of those teams will ultimately end up watching the semifinals being played in Arlington, Texas and Miami Gardens, Florida like the rest of us.
Those three, and one other unfortunate squad, are sure to get screwed by the College Football Playoff.
Here's why:
Baylor
With as many points as the Bears have put up, their explosive offense seems to be a no-brainer to get into the playoff this year, especially as they missed last year.
Sadly, this trend of being on the outside looking in will continue for the Bears.
They have two tough games coming up.
Oklahoma comes to town with revenge on their minds for the past two years of mauling the Bears have unleashed on them. The Bears even beat Oklahoma State in Stillwater.
After that will come a TCU team looking to rebound after a 49-29 loss to the Cowboys last week.
The strength of schedule is favoring the Bears.
But the Bears will get screwed because they will give up two or all three of those games, and that will knock them out of playoff contention for the second year in a row.
Ohio State
Ezekiel Elliott is Ohio State football.
Whether he is running through people, running around people or hurdling people, Elliott is the man. There is no denying that.
Still, quarterback troubles and barely squeaking by in the Big 10 will screw Ohio State out of their three seed despite their unbeaten record leading into the final stretch of the season.
The way the Buckeyes have gotten their wins has been inconsistent and the playoff committee would like to see consistent, dominating wins from a championship pedigree Ohio State team.
Michigan still has that dramatic and heartbreaking blocked punt playing over in their minds. If they beat Ohio State, it will knock the Buckeyes out of contention for the playoff.
To see Ohio State beat Michigan, they will have to get by a tough Spartan team who would love nothing more than to end their chances in becoming National Champions again.
Stanford
The Cardinals have rebounded in a great way since their upset loss to Northwestern.
Beating USC in the Coliseum and defeating UCLA have brought what seemed to be a lost season back to life.
But no matter how many yards Christian McCaffrey can muster, or how many miraculous grabs Francis Owusu can make, it will not be enough to bring the Stanford to the playoff.
Sure, a win against then number six ranked USC was impressive and a win against Notre Dame would be impressive too. But sadly that opening loss to Northwestern will hold them back from competing in the playoff this year.
Iowa
The Hawkeyes are unbeaten. That sentence alone is a shock.
The Hawkeyes beat Wisconsin inside of Camp Randall. This is also an impressive feat.
Iowa's problem is their strength of schedule. Wisconsin was the only quality win the Hawkeyes have had.
Playing in the Big 10 West has been a breeze for the Hawkeyes, clinching their side of the Big 10 seems to be a foregone conclusion at this point.
Playing in the Big 10 Championship game against a one-loss Ohio State or Michigan will not help them bump up any higher despite being undefeated.
So yeah, Iowa has shocked the Big 10 by going undefeated, but won't shock the nation by not playing in the College Football Playoff.
2015 has been a season of miraculous plays, unbeaten teams nobody would have ever expected, heartbreaking last-second wins and offenses putting up numbers only seen in the video games.
The playoff system works by getting each team to play hard each game, but it's also heartbreaking when your team does not crack the line-up.