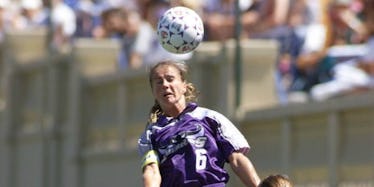 Soccer Legend Brandi Chastain Will Donate Her Brain To Concussion Research
Getty Images
When most people think about concussions and chronic traumatic encephalopathy, they think football, but thanks to US soccer legend Brandi Chastain, hopefully they'll start thinking about fútbol, too.
Chastain, a 1999 World Cup winner and a player who headed the ball more than others, announced she will donate her brain to the Concussion Legacy Foundation for research after she dies.
Dozens of cases of CTE, a neurodegenerative disease, were diagnosed in former NFL players, leading to increased awareness and a recent slew of early retirements.
Obviously, women don't play in the NFL, so the stigma behind concussions and CTE is this is a mostly male issue. That's just not true, and Chastain's actions prove it.
Women who play soccer, basketball and hockey can be just as susceptible to head injuries. In fact, according to research, females are more susceptible to concussions than males.
Ann Mckee, a professor of neurology and pathology at Boston University and overseer of the university's VA-BU-CLF Brain Bank, reportedly addressed the importance of Chastain's donation pledge.
She reportedly said,
Brandi Chastain's decision to donate her brain to further research is a powerful and courageous act that will ultimately improve the future health of female athletes, military veterans and other women who experience repetitive brain trauma. We currently know so little about how gender influences outcome after trauma; her pledge marks an important step to expand our knowledge in this critical area.
As of this moment, just seven of 307 brains donated to the VA-BU-CLF Brain Bank belonged to women. While none of those seven brains were found to contain CTE, there's far more research required to understand how repeated head trauma affects females.
Chastain's decision to donate her brain to research will hopefully pave the way for other female athletes to follow suit. The more we all know, the better off future generations of athletes, both male and female, will be.
Citations: Brandi Chastain pledges to donate brain to concussion research (Washington Post)