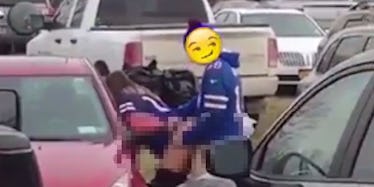 These Two Bills Fans Got Caught F*cking At A Tailgate Yesterday (NSFW Video)
Yesterday's game between the Buffalo Bills and Houston Texans had plenty of action and excitement on the field, but what happened beforehand in the parking lot is on another level.
Before Rex Ryan's Bills powered their way to a 31-20 victory over Houston, two fans in Bills jerseys were caught on Snapchat having full-on sex during what has to go down as one of the most turned-up tailgates of all time.
We chose not to embed the video because the phrase "NSFW" doesn't even begin to do it justice, but you can watch it here.
Stay classy, Buffalo.