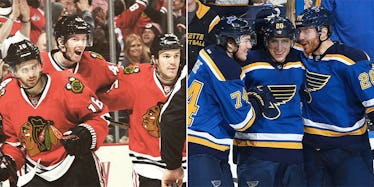 These 6 Teams Are The Biggest Winners Of The 2015 NHL Trade Deadline
Instagram
The NHL trade deadline passed at 3 pm EST Monday, but it brought some significant shifts in the NHL power balance.
Contenders were buying, while those fading emptied their rosters. Big name veterans have joined playoff races, while other teams stashed draft picks and prospects.
There were hugs goodbye, packed bags and changed lives across the hockey landscape.
Usually, the fun starts before the day of the deadline. Winnipeg sent malcontent superstar Evander Kane to Buffalo for solid replacements as they vie for a spot in the crowded Central Division. That's the leader in the clubhouse for superstar trade this year.
While we won't know the true impact of all these trades until the season ends in June and beyond, here are the preliminary rankings of trade deadline winners:
6. Florida Panthers
Currently sitting at ninth in the Eastern Conference standings, the Panthers have a solid youth movement going with Jonathan Huberdeau, Aleksander Barkov and Aaron Ekblad as pieces for the future.
Trailing Boston by two points with one more game to be played, the team's rebuilding is ahead of schedule and the new management will take a shot at a playoff run. The team added some great veteran scorers in the ageless Jaromir Jagr and Dany Heatley.
Heatley has been relegated to Norfolk in the AHL, but will have a chance to dazzle. For veteran forward Tomáš Fleischmann, the Panthers got a third-round pick in addition to the 2001 Calder Trophy winner.
Jagr scored in his first game for a franchise that began play three years after Jagr joined the Penguins in 1990. At 43, Jagr joins the Panthers from struggling New Jersey, and has shown he can play at an elite level with his attention to conditioning and passion for the game.
The Bruins and Panthers will play twice in March, which will go far to decide who makes the wildcard slot and who sits at home in April.
These extra scorers can do a lot to get Florida into the post-season and bring the roar back to Sunrise.
5. Columbus Blue Jackets
The snarky side of me was going to add them to this list strictly for moving Nathan Horton to Toronto for David Clarkson last week. Both players were brought in under great fanfare and have failed to meet expectations.
Columbus has struggled this year with injuries and now sits seventh in the Metropolitan Division, 15 points out of a playoff spot.
They've already starting building toward the future by moving defenseman James Wisniewski to Anaheim for Rene Bourque and William Karlsson.
Columbus sent their third-round pick this year and got Anaheim's second-round pick in return. Karlsson is a promising young prospect, while Bourque brings a veteran scoring touch.
Not only did the Blue Jackets make waves in hockey with these moves, but also scored some mainstream brownie points by dealing Jordan Leopold to Minnesota for Justin Falk and a late-round pick.
This deal was first conceived by Leopold's 11-year-old daughter, Jordyn, who lives in Minnesota with her mom and three siblings.
She wrote a letter to the Wild's front office stating how much she missed her dad, how miserable he was in Columbus and how coming home could help the Wild win some games.
Minnesota holds the last wildcard spot in the West by three points, and this deal brings a veteran presence to a surging team.
Could Jordyn become the first female NHL GM if this deal works?
4. Arizona Coyotes
Some teams enter the trade deadline as the talent suppliers. These franchises are looking to get the most from contenders coveting key players.
When a team goes in fire sale mode, they are judged by what they got for the men that left.
This year, the Arizona Coyotes did the best job of leveraging desired talent to build for the future. The trades started with moving Antoine Vermette to Chicago for the Blackhawks' first-round pick and defenseman Klas Dahlbeck.
This young defenseman from Sweden has impressed in the AHL, but couldn't earn a spot among Chicago's excellent blueline rotation.
Yesterday, the Coyotes sent longtime presence Keith Yandle to the Rangers with Chris Summers and a fourth-round pick for Dominic Moore and second-round pick Anthony Duclair.
Moore and Duclair have earned their reputations as two emerging stars in the NHL. Duclair shined at the World Junior Championships this year, leading Canada to the gold medal on home ice.
Today, St. Louis got defenseman Zbyněk Michálek with a pick for Maxim Letunov, a young Russian from the USHL headed to Boston University in the fall.
GM Don Maloney now must play his cards well to rebuild the team and make them competitors in a Pacific Division that is strong, but has room for another young contender.
3. Montreal Canadiens
Currently the top seed in the Eastern Conference, the Habs are in great position for another long playoff run.
Today they pulled off three trades to strengthen their lineup. Jeff Petry, a highly sought defenseman from Edmonton, arrived for two picks this year.
Montreal made a trade with divisional rival Buffalo, getting forward Brian Flynn for a late-round pick next year. The Habs sent Jack Nevins and another 2016 pick to the Sabres for Torrey Mitchell.
Adding a couple role players up front will give Montreal needed depth if they want to go farther than the Eastern Conference Finals last year.
The strong play of Carey Price should help, but another Deadline Day success could mean another banner for hockey's most decorated franchise.
2. Chicago Blackhawks
The top two teams on this list are on a collision course for a divisional semifinal rematch once the playoffs begin. Chicago won last year in six physical games and reloaded before the deadline.
Antoine Vermette was in this position three years ago when he arrived to Phoenix from Columbus and helped the Coyotes reach their first ever Conference Finals. He's not afraid to mix it up and play physical hockey.
Chicago followed that up by acquiring Kimmo Timonen from the Flyers for two picks. At 39, the Finnish blueliner is a known asset who fits in well with Chicago's elite D-men.
However, coming off months of rest to resolve blood clot issues, he has yet to skate in an NHL game. Already without Patrick Kane, the Blackhawks cannot afford to lose another marquee name.
Oh yeah, that's right; they're the Blackhawks, a team I called the best all-around in pro sports last year. They got better with moving Ben Smith to San Jose, putting their confidence in Patrick Sharp.
Corey Crawford steps up in the playoffs so the run for a third cup since 2010 looks viable.
1. St. Louis Blues
The Blues entered this season knowing it was make or break to take that next step. During the trade deadline frenzy, they pushed all their chips to the middle of the table.
The day started by acquiring Michalek from Arizona. This team has been plagued during the playoffs with bad defense. Michalek enters as a top defenseman who can join a shutdown rotation.
The Blues swapped defensemen with Pittsburgh, sending Ian Cole east for Robert Bortuzzo, a guy more suited for the wide open Western conference.
The final trade for the Blues is the one I think will be the difference maker with Olli Jokinen coming from Toronto.
The well-traveled Finnish forward has over 1,200 NHL games to his credit, but only six playoff games. His veteran presence should help a stacked lineup gain that focus to overcome past failures.
Championship teams usually have one guy in the room that the others say, ":et's win the Cup for him."
Olli could be the one who brings the Cup to St. Louis.