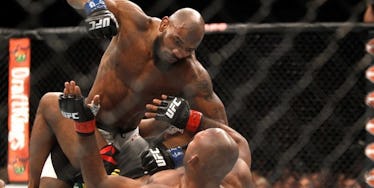 'UFC Is Boring': The Top 5 Biggest Misconceptions About MMA
Getty Images
Mixed martial arts (MMA) has yet to be accepted by a mass audience due to the negative and often inaccurate perceptions by a great deal of the general public.
Many refuse to see past MMA's initial appearance -- largely because it's so different from mainstream sports, where grabbing someone's jersey is often considered unnecessary aggression.
True fans, however, will tell you all the disgust and suspicion over MMA is completely unfounded.
To clear up the confusion, here's a list of the biggest misconceptions about this severely misunderstood sport.
1. MMA is the most dangerous sport on Earth.
The fact that MMA involves fighters getting repeatedly punched in the face, even after they've been knocked down, gives critics the impression all fighters are destined for brain damage.
A number of experienced fighters have reportedly received concussions, but a 2015 study found boxing is logistically more dangerous than MMA. Boxing primarily targets the head, while MMA heavily emphasizes grappling along with blows to the body and legs.
Boxers additionally have the chance to get up after being knocked out, putting them at risk of getting knocked out again.
Football appears to be much more dangerous than MMA as well due to the frightening odds of players developing chronic traumatic encephalopathy (CTE) or related brain conditions.
MMA is far from the most dangerous sport, but is it the bloodiest and most violent? Quite possibly, and that's one of the reasons fans love it so much.
2. MMA has few, if any, rules.
You can hit your opponent as hard and as much as you can, but where you hit him or her and how you do it is a whole other story.
The UFC has a very long list of rules to protect fighters.
The following moves are illegal in the UFC and can result in points being taken away when violated:
Headbutts
Hitting the back of the head
Kicking or kneeing the head of an opponent who has at least one knee or hand on the ground (as displayed in the clip above)
Elbowing in a direction characterized as "12 to 6" (as in a clock)
Grabbing the trachea or clavicle
You know that fence surrounding the fighters? It's illegal to grab it during a fight, and referees can take points or advantageous positions away from fighters if they do.
Fighters can also lose their jobs if they keep an opponent in a submission hold after the referee stops the match.
In terms of conduct, it is a violation to spit on an opponent or even throw one's mouthpiece into the audience in excitement after a thrilling victory.
3. MMA fighters are mean, uneducated lowlifes.
Any longtime MMA fan will assure you fighters are merely trying to promote fights and raise their paychecks when they talk trash to each other.
When speaking about trash talk, former UFC welterweight champion Georges St-Pierre said,
It doesn't mean they are a bad person. Like Conor McGregor, very nice guys, the nicest guy in the world if you meet him. Tito Ortiz, same thing. Chael Sonnen, same thing. But, their characters, when they fight someone they like to put some animosity to promote the fight.
MMA requires so much respect for one's coaches, teammates and opponents, it's damn near impossible for ignorant narcissists to master the sport.
Many fighters, such as electrical engineering graduate Takeya Mizugaki and former middleweight champion and math teacher Rich Franklin, also have college degrees.
Chuck Liddell, one of the most vicious MMA fighters in history, has a degree in accounting from California Polytechnic State University. He also likes to get pedicures with his daughter.
MMA fighters often display their respect for others outside of the cage as well.
When "The Notorious" Conor McGregor was told some of his comments could be interpreted as sexist, he immediately responded,
[If I offended anyone] I sincerely apologize.
Current and former UFC fighters like Brian Stann, Tim Kennedy and Liz Carmouche have learned the value of humility and compassion while serving in the armed forces.
Former UFC lightweight champion Jon Jones, in another example of positive moral character, was quoted describing women's bantamweight champion Holly Holm.
Jones said,
She is the long-time pride of Albuquerque, New Mexico, not only because the way she competes, but the way she treats each and every individual that has the opportunity of meeting her. This actually can be a problem at times, a simple trip for a gallon of milk to the grocery store could take her an easy 45 minutes and she doesn't even mind.
4. MMA fighters are out to hurt each other.
UFC history has shown fighting angry or developing an overwhelming distaste for an opponent will only get you knocked out. Just ask former featherweight champion José Aldo, who quickly ended up flat on his back since he wanted nothing more than to make his opponent feel pain.
Fighters are taught to show respect by training hard, fighting intelligently in regards to each other's strengths and exhibiting class after fights.
Should a fighter sustain an injury or take a tremendous beating, the opponent is expected to routinely check if he or she is all right, whether it be at the hospital or inside the cage.
A fighter's main objective is to earn a victory, not inflict pain.
There's a difference between getting into the fight game to hurt people and getting into the fight game because you're GOOD at hurting people. Besides, putting a fighter through hell is not an effective way to make him or her look like a loser.
It actually has the opposite effect, forging a bond of respect between the two fighters as well as their adoring fans.
5. MMA is boring.
This might be true if the only sports you like are baseball, football, basketball or hockey.
Fans of less popular sports in the US such as soccer and tennis, on the other hand, are probably more likely to pick up the hidden techniques of MMA.
First-time MMA spectators tend to balk at grappling, which seems to involve two fighters pointlessly holding onto each other for extended periods of time. Those who know the sport, however, are aware these positions are extremely taxing and strategic.
Some fighters like to trap opponents against the cage to suck out their energy and willpower, halting an otherwise effective game plan. Others might wait for the opponent to lose grip or concentration and then secure a takedown, which takes time.
When the next round starts, the fighter who had to carry his or her opponent's weight will be too exhausted to offer strong defenses.
If you're wondering why only some MMA fights result in slugfests, it's because it's so easy to get knocked out with MMA's small gloves, and not every fighter has a chin of steel.
You've got to view the fight from the perspective of the fighters to understand the mental and physical predicaments at hand.
Citations: Despite All The Blood, MMA is Actually Safer Than Boxing (The Huffington Post), Brain Trauma to Affect One in Three Players, N.F.L. Agrees (The New York Times), UFC releases Rousimar Palhares after lengthy ankle lock win over Mike Pierce (MMAjunkie), Georges St-Pierre admits MMA would be boring if every fighter were like him, hails charismatic 'bad guy' Tito Ortiz as a 'legend' (MMA Mania), 10 Celebrities You'd Never Guess Studied to be Accountants (Top Accounting Degrees), Jones: Holm already greatest of all time in women's combat sports (FOX Sports), Conor McGregor's lesson in mental warfare (Fight! Australia), Harris Poll: NFL Remains King Among U.S. Adults, But Gap With Baseball Closer (SportsBusiness Daily)