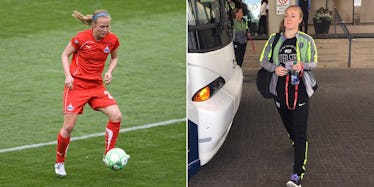 How This Player Went From Benchwarmer To The Heart Of US Women's Defense
Facebook/Twitter
Four years ago, Becky Sauerbrunn watched from the bench at Commerzbank-Arena in Frankfurt, Germany as her team lost the World Cup Final to Japan.
You can forgive her for not being bitter about her status as a sparsely-used substitute; a few months before the tournament began she wasn't even on the 23-player roster.
Sauerbrunn made just one appearance at the 2011 Women's World Cup – she played in the semis following an injury to Rachel Van Hollebeke – and played just 38 minutes at the 2012 Olympic Games, but she had put herself in the national picture.
Fast forward a few years later.
In 2015, the 30-year-old St. Louis, Missouri native is the only player to start all 14 matches for the United States, and she's played the most minutes (1,239) of any squad member.
On Friday, when the United States takes on China in the quarterfinals of the World Cup, Sauerbrunn will look to show why she's currently being hailed as one of the best central defenders in the women's game.
How she went from the fringe of national recognition to the heart of the United States' defense is a testament to not only her skill, but her unwavering spirit and self-belief.
A trip to the movies changed Becky Sauerbrunn's life forever.
In 2010, while standing outside of a movie theater, Becky Sauerbrunn answered a call from a number she didn't recognize.
The person on the other end of the line was Pia Sundhage, then coach of the United States women's national team, who was calling to inform her that as a result of an injury, she wanted Sauerbrunn to join the team at their next training camp in Atlanta.
The central defender never made it inside to see Ben Affleck's "The Town," but the story she was about to write is a far better one.
Sauerbrunn packed up her life and was on a flight the next morning.
She joined up with the USWNT five days into a 20-day camp, which would end with Sundhage's final squad selection for the 2011 World Cup qualifying campaign.
Despite knowing what was at stake, and already being behind, Sauerbrunn trained with the confidence of a national team vet. She said,
Coming into camp, I had no expectations, probably because no one had any expectations for me. I knew I was an alternate, but I was going to play my butt off and see what happened.
She impressed enough to make the final squad for World Cup qualifying, and she has been a rising figure on the national side ever since.
To think, if she picked an earlier show time or decided not to pick up a call from a number she didn't recognize, Becky Sauerbrunn may have never gotten her shot back in 2010.
Despite not being a national team fixture right away, Sauerbrunn relied on her club experience to keep her on course.
What initially put Becky Sauerbrunn on the national team radar was her exemplary club record with Women's Professional Soccer's Washington Freedom – the league has since gone under, like so many other professional women's soccer leagues around the globe.
From 2008-2010, she started all 44 games with the Freedom, playing every minute of every match.
And when the National Women's Soccer League formed in 2013, Sauerbrunn played every minute of all 19 games she started with FC Kansas City, the team she currently plays for.
In 2013, she was named NWSL Defender of the Year.
In 2014, she won the award again and helped FC Kansas City win its first league title in club history.
Before she rose to the top with Kansas City, though, Sauerbrunn broke into the national team rotation in 2012.
She started nine matches and made 22 appearances for the United States that year.
And Last year, Sauerbrunn started 20 of 22 matches in which she appeared, including all three 2015 World Cup qualifiers.
After the United States' 3-1 win over Australia in their 2015 World Cup opener, Sauerbrunn said,
I definitely feel more established. Going into the 2011 World Cup, I had just made the team so I wasn't getting a lot of playing time and I definitely knew my place as a reserve. My job was to push the starters to make them better. Now to be more established and playing a lot more, it gives you a certain amount of confidence to know that you've got a lot of international experience under your belt.
After becoming a starter in the US defense, Sauerbrunn had to quickly step up and be a leader.
Following her solidification as a defensive stalwart – she played every minute of those World Cup qualifiers – there was no doubt Becky Sauerbrunn was going to be head coach Jill Scott's first choice in central defense in Canada.
However, for all the money in the world, it looked as though Sauerbrunn would be paired in defense with veteran Christie Rampone.
And she was pumped about playing with the most-capped player on the USWNT roster.
When you have somebody like Christie Rampone, with the vast experience she has had, you're going to defer to her line because she has played in so many huge games and she knows what she's talking about.
But, before the US' opening match against Australia, Jill Scott selected the 23-year-old Julie Johnston to partner with Sauerbrunn, and yet another variable was thrown into the US' World Cup equation for success.
Sauerbrunn, however, wasn't rattled. In fact, it seemed like she had been preparing for this possibility for a while.
If there is a back line where Christie's not in it and maybe I'm one of the older players, then maybe I'm the one that starts running the line.
And that's exactly what she's been doing.
Sauerbrunn is anchoring a backline that has gone 333 minutes without conceding a single goal.
FACT: The #USWNT earned three shutouts through first four matches at the 2015 @FIFAWWC. #ShutoutStreak pic.twitter.com/Z9GsvtF8Wz — U.S. Soccer WNT (@ussoccer_wnt) June 23, 2015
And she has made several perfectly-timed last-ditch tackles at this World Cup.
Pre-tournament, the hype surrounding the heavily-favored US team was focused on a high-powered offense, but the success – or perseverance, rather – of Scott's team has been predicated on Sauerbrunn and the defense.
In five years, Becky Sauerbrunn has gone from thinking she'd never get to represent her country on the big stage, to being the most dependable American player at the 2015 World Cup.
Considering how the tournament has played out thus far, there's a good chance the team will once again lean on Sauerbrunn and her defense to keep China off the board, and the United States' hope for a first World Cup title in 15 years alive.
It's a challenge that wouldn't have even registered with her a few years ago, but now it's clear there's no better player up to the task.