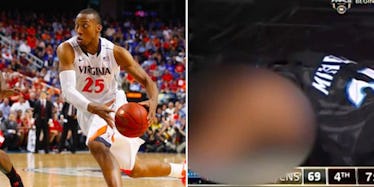 Basketball Player Pops Opponent's Eyeball Out Of Socket In Horrific Video
Reuters/Fox
Things can get pretty ugly out on the basketball court.
Akil Mitchell, a forward for the New Zealand Breakers basketball team, recently learned this the hard way when he suffered a horrific eye injury during a game against Cairns Taipans in Auckland, Australia, on Thursday, January 26.
In the final quarter of the game, Mitchell, a former University of Virginia player, dropped to the ground and began writhing in agony after what appeared to be an accidental poke to the face by the opposing team's player, Nnanna Egwu.
However, the ghastly expressions of the players who saw Mitchell's injury quickly reveal this was way more than a minor scrape or bruise.
It turns out that the Taipans player had popped Mitchell's left eye out of its socket, leaving Mitchell's eyeball dangling from his face.
As officials and medics gathered around Mitchell, his New Zealand Breakers teammates formed a huddle and began to pray for the injured 24-year-old athlete.
After about 15 minutes, Mitchell was assisted off the court and led out of North Shore Events Center with a towel over his head to conceal the injury.
The  player was met by an ambulance waiting outside, which then rushed him to the hospital for treatment.
Following the incident, the NBL tweeted, "Our thoughts are with Akil Mitchell following a terrible eye injury."
While no one from the New Zealand Breakers team was available for comment, the captain of the opposing team, Cameron Gliddon said, "It was really hard to see a player go down like that, it's hard to watch and we all send our thoughts to Akil."
Mitchell was considered to be one of the best players on the New Zealand Breakers prior to his injury. The Breakers will go on to play in Sydney without their all-star player on Sunday, January 29, as Mitchell continues to heal.
Citations: Basketball player's eyeball popped out (Live Leaks), New Zealand Breakers forward Akil Mitchell suffers horrific eye injury in NBL match (Sydney Morning Herald)