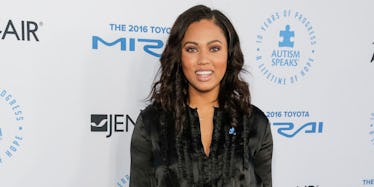 Ayesha Curry Had The Best Response To A Cavaliers Twitter Troll
REX/Shutterstock
Sunday night, during Game 2 of the NBA Finals, Steph Curry's wife, Ayesha Curry, was called out by what can only be described as a Twitter troll.
With the Golden State Warriors on the verge of going into cruise control against the Cleveland Cavaliers, a Twitter user, Johnny_Blaze, attempted to clown on Ayesha Curry's Twitter avatar.
It appears Johnny_Blaze (@jbalint90) has since deleted his tweet, but he clearly tried to come at Ayesha Curry by saying he wanted to hit her with a whisk.
Eventually, Ayesha Curry responded to @jbalint90 and put him in his place real quick.
You should try and do that... https://t.co/1wbDrfBvwU — Ayesha Curry (@ayeshacurry) June 6, 2016
Ayesha Curry's cool response has a two-fold effect. First, she shut this dude down by daring him to make good on his threat, knowing full well he never will.
Second of all, by responding to him, Ayesha showed what a coward this dude really is because he didn't even have the stones to leave his ridiculous tweet published.
Don't pick a fight you can't win, and definitely don't pick one you're not even willing to contest.
Citations: Ayesha Curry Claps Back at Cavaliers Fan Who Tried to Go at Her on Twitter (Complex)