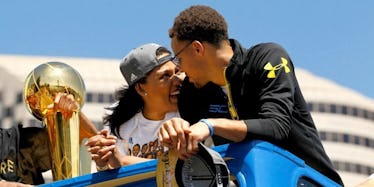 Ayesha Curry Is Honoring Steph Curry With Her Latest Project
USA TODAY Sports
Steph Curry and the Golden State Warriors are just two wins away from conquering back-to-back NBA championships, but it's unsurprisingly Steph's wife, Ayesha Curry, and daughter, Riley, who are making the major headlines.
According to reports, Ayesha Curry has linked up with Freshly Picked to design and build a baby shoe line that's obviously going to be the envy of every mom and little tike running around the country.
Speaking on the launch of the baby kicks, Ayesha Curry reportedly said,
I am so thrilled to be collaborating with Freshly Picked on this collection. It's cute, adorable [and] delicious yet still fashion forward. Yummy little moccasins to cover those yummy little toes.
I mean, it's pretty hard to argue with this, isn't it?
The collaboration between Ayesha Curry and Freshly Picked will reportedly feature baby moccasins like "Mint Chip"...
...and a special pair called "Fan Favorite," a direct nod to Steph and his Warriors teammates.
Tell me those aren't going to be on every baby Golden State Warriors fan's feet by the beginning of next season.
Ayesha explained how her daughters, Riley and Ryan, were the inspiration behind her foray into fashion, reportedly saying,
I suddenly became the pickiest person on the planet and felt that I could never find the right pieces for my little girls!
If you're interested, you can purchase these baby booties for $60 a pair.
Citations: Sneak a Peek at Ayesha Curry's New 'Fashion Forward' Baby Shoe Collaboration with Freshly Picked (People), freshlypicked (Instagram)