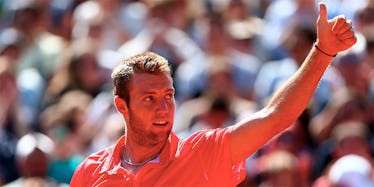 Elite ATP Picks: Back Jack Sock And Tsonga To Reach The Auckland Final
Getty Images
Big John disappointed us last night, folding in three sets to Spaniard Roberto Bautista-Agut.
What's so frustrating is he didn't look horrible -- winning a few sensational points -- but rather mentally fatigued, failing to serve out the first set at 5-4 and allowing a bad line call in the third completely throw him out of rhythm.
Thankfully, our other American, Jack Sock, was able to pull out an impressive three-setter against World No. 12 Kevin Anderson. And, as for our third play, Gilles Müller, we find ourselves in pretty decent shape after the Luxembourger pulled out the first set tiebreak 7-6(5).
However, due to rain in Sydney, the match has been suspended until tonight around 7:15 pm EST. But, as long as he handles his business, we should pull out another 2-1 night despite Isner stumbling; upping our season totals to:
Season totals: 14-6 (70%) +7.80 units
Unfortunately, because most of last night's slate in Sydney got interrupted by the rain, those matches will have to resume tonight (instead of the next round) -- leaving us with just the Auckland semifinal matches to play with.
The good news is: I think I have a beat on both of them.
Sock +175 over Ferrer
To be honest, I was kicking myself a little bit, early last night.
After watching Kevin Anderson completely discard of Jack Sock in the first set, 6-1, I began to doubt everything I thought Sock was.
He was less than 50 percent on his first serves in the first set. He was handing over unforced errors. He looked flat and disinterested, from a desire perspective. While talking to my buddy last night, I knew that we needed him to flip gears (pardon the spelling).
By the time the third set rolled around, I was once again convinced that Sock is the type of top-10 talent we've been hoping for out of an American since Andy Roddick. He was thrashing his forehand all set -- and put on a f*cking CLINIC, to break up 5-4 -- with Anderson serving to stay in the match.
Tonight, I will not waver in my backing of the young American as he meets the Spanish No. 2 David Ferrer, in the Auckland semifinal. That being said, it's probably going to be another bloodbath in the land down under. And I know he's up to the task.
Here's the deal: Part of what makes Jack Sock so effective is his ability to inject pace into groundstrokes and hit winners from pretty much anywhere on the court. Now, Ferrer, on the other hand, is celebrated for his ability to absorb pace and play defense.
While I usually tend to give the edge to good defense over good offense, these two players are simply in different phases of their careers. It's evident that the aging Spaniard -- despite being a top-10 player -- has lost a few steps, while Sock, on the other hand, is seemingly trending upward by the match.
I'm going back to the Sock well, tonight, hoping the American can grab a signature win against the World No. 8.
Prediction: Sock in three (6-2, 4-6, 7-5)
Tsonga -193 over Bautista-Agut
Jo-Willy continued his fine start to 2016 with another impressive win Thursday morning, against the Italian shotmaker Fabio Fognini.
In an extremely entertaining match, in which each player was looking to hit winners, Tsonga outclassed his opponent -- seemingly winning all of the big points during crucial moments in the match.
Around 1 am EST, he'll square off against World No. 25 Roberto Bautista-Agut in the semifinal, who he managed to beat twice last year. RBA comes into Friday morning's match having not played exceptionally great tennis, but having done just enough to squeak past Big John Isner in the quarterfinal.
From a playing style standpoint, I fancy the way a guy like Tsonga matches up with Bautista-Agut. I think the Frenchman will be able to dictate points -- both on service and return games -- and will be able to hit through RBA from the baseline. Especially with Centre Court in Auckland playing so quick.
Although RBA is a capable, almost sneaky, server -- Tsonga has proven that he has the skill to break him at will, beating him 6-2, 6-2 last November in Bercy.
With fitness concerns regarding the World No. 10 pretty much put to bed, I like the idea of backing Tsonga to show his class tonight against Bautista-Agut and secure himself a spot in the Auckland final.
Prediction: Tsonga in two (7-5, 6-2)