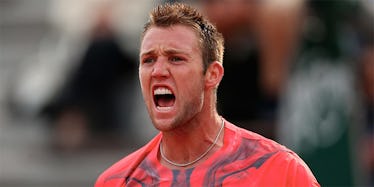 ATP Betting Preview: Expect A Roaring Finish From Jack Sock In New Zealand
Getty Images
I woke up in pretty poor spirits this morning, I won't lie.
By the time I passed out last night -- which was sometime around 1:45 am EST -- our boy Jo-Willy was up a set and a break over RBA, 6-3 2-0. So, I slept like a baby. After watching Jack Sock come back from another set down against World. No. 8 David Ferrer, I assumed both of our plays last night were hitting. I felt great.
Well, you know what they say about people when they assume, yeah?
Definitely felt like an assh*le when I rolled over and picked up my phone this morning, only to see that Tsonga lost in three.
After watching the highlights, it seemed like RBA simply wore the Frenchman down. He played incredible defense from the baseline and forced Tsonga into making his own unforced errors, which he did. In the second set tiebreak, Tsonga came completely undone; and throughout the third set, the Spanish No. 4 played better tennis.
Whatever, bad beat; we move on. It's a long season.
Tonight, we look to shield the heater we've been on (12 of our last 15) and provide ourselves with some good ol' fashioned swagger heading into Melbourne for the first major of the season.
As it stands:
Season totals: 15-7  (68%) +7.62 units
Sock -155 over RBA
Tsonga didn't look too assertive against RBA in the second and third set of his semifinal match in Auckland. RBA was able to dictate most of the points and keep his shots away from Tsonga's forehand, far and away his most dominant shot.
Sock, however, has proven that he's equally comfortable hitting winners with either shot -- forehand or backhand -- and that should make him a much tougher task for RBA tonight. Especially if he plays as aggressively as he has in each of the past two matches, with the exception of the first sets.
Also, given the type of match RBA played against Tsonga, I feel like we're due to see a dropoff in his level of play. After all, it's tough for lightning to strike twice -- especially against two of the more heavy hitting players on the tour.
With Sock leading their head-to-head, I give the edge to the in-form American to hoist his second ATP World Tour Singles title and carry that momentum over into the Aussie. Back Jack to carry us to the promised land, tonight, and avenge us against the dude who's spurned us all week.
Prediction: Sock in two (7-5, 6-4)
Troicki / Dimitrov UNDER 21.5 games
Both of these men have played a lot of tennis in the last couple days.
Due to rainy conditions in Sydney, Dimitrov was forced to finish off Dolgopolov and play Gilles Müller over the course of a few hours, and Troicki had to do the same with Mahut and Gabashvili, respectively. What does this mean for tonight?
Well -- a short match, for starters. With both players probably focusing more on the Aussie Open just two days away, I'm tipping the under tonight at 21.5 games. I expect whoever wins the first set to come away with the match, avoiding a third set entirely.
Honestly, both players looked pretty evenly matched the last time they met -- which was just about a week ago (Bobby Shmurda voice) in Brisbane -- and, while I give the slight edge to Dimitrov, -245 for him is simply out of my price range.
Back the under, and hope that whoever loses the first set checks out and looks ahead to the first Grand Slam on the calendar.
Prediction: Dimitrov in two (6-4, 6-2)