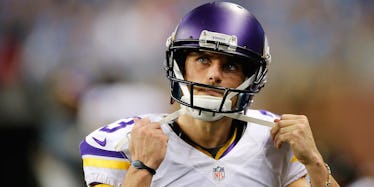 8 Athletes Who F*cked Up Worse Than Minnesota Vikings Kicker Blair Walsh
Blair Walsh f*cked up pretty badly Sunday. There's no denying that.
As a kicker in the National Football League you generally have one job: make your kicks. Obviously, Walsh failed to do that Sunday afternoon, and watched his team's playoff hopes go up in flames, in the process -- for the entire football watching world to see.
But he's only human; we're a flawed species. He's not the first professional athlete to make a huge mistake on the big stage, and he certainly won't be the last one, either.
I grew up a Knicks, Mets, Jets and Islanders fan -- trust me, I know a thing or two about mistakes. And I'm not just talking about Buckner.
Anyways, I sort of feel for Blair Walsh.
While his shanked field goal cost the Vikings a trip to the divisional round of the NFL playoffs, in the grand scheme of things, there have been MUCH worse mistakes with bigger repercussions.
So, with hopes of diverting some of the negative attention being paid toward Mr. Walsh, here are eight more monumental mistakes to occupy your Tuesday afternoon with. Because, come on, give Walsh a break. We all f*ck up sometimes. Just not on national TV.
1. Andrés Escobar "Own Goal"
Sometimes when people make errors, you might think to yourself, ugh, I'm so mad I could kill him. In the case of Andrés Escobar, center back of the Colombian national soccer team, this phrase manifested itself more literally.
During the group stage of the 1994 World Cup, a ball was sent into the box in the area of Escobar -- who tried to clear it, himself.
To the dismay of all of Colombia, Escobar's sliding effort backfired and ultimately slotted the ball into his own net, costing Colombia its World Cup hopes. Although it was an honest mistake, football is not something that people take lightly in Colombia. Escobar was literally found dead in a Colombian parking lot as a result of his error.
2. Chris Webber "Timeout"
It was 73-71 Tarheels, as the back end of Pat Sullivan's one-and-one rolled off the iron, giving the Michigan Wolverines a chance to tie or win with a three. Chris Webber -- part of Michigan's famed "Fab Five" -- got the rebound and looked to advance the ball up-court.
And that's where the calamity ensued. Desperately looking for an open teammate to pass the ball to, Webber panicked and attempted to call a "timeout" instead. Much to his chagrin, his team had just burnt their last timeout just 35 seconds prior.
Refs called a technical foul on Chris Webber and Michigan went on to lose the game in humiliating fashion.
3. Leon Durham "Gatorade Glove"
Although Bill Buckner's blunder gets a great deal of the five-hole shame -- and for good reason -- he's not alone.
Just two years prior to Buckner, another first baseman made a costly error in between his legs, which cost his team a shot at the World Series: Leon Durham. His blunder was dubbed the "Gatorade Glove play" because Durham had spilled Gatorade on his glove the inning before.
As the Cubs led 3-2 in the seventh inning, Durham allowed a ground ball to go through his legs, which ultimately opened the flood gaps for the Padres to come back and beat Chicago.
Did I mention this all happened in the (at the time) decisive fifth game? Eek.
4. Patrick Ewing "Back Iron"
I'm pretty sure if Patrick Ewing had 100 opportunities to attempt the finger roll he took in the waning seconds of game seven of the 1995 Eastern Conference Semifinals, he would successfully convert it 99 times.
Unfortunately, reality presented that 100th time, and Ewing missed the shot -- which would've tied the game at 97 -- and gave the Knicks a chance to defend their position as Eastern Conference Champions.
5. Mikalai Pobal "Folding the Nuts"
I'm not sure Blair Walsh's blunder could mimic the magnitude of "f*ck-up" that "folding the nuts" in poker presents.
In card terms, folding the nuts refers to folding a hand that you physically couldn't have lost. So, in other words, it's essentially the poker equivalent of being up eight points in basketball with seven seconds left and deciding to just forfeit.
In 2012, German poker player Mikalai Pobal "folded the nuts," surrendering a hand he physically could not lose. In professional poker, folding the nuts results in a one-round penalty, because it's the type of mistake that should only be made if you're planning to fix the match.
In surprise fashion, however, Pobal bounced back from his one-round ban and actually won that tournament. Talk about turnarounds.
6. Scott Norwood "Wide Right"
Although Blair Walsh's missed kick surely was a massive f*ck up, it's really just the tip of the iceberg when it comes to kicking blunders in big games.
Take Super Bowl XXV, for example, the game now known better by its informal name, "Wide Right." It was a tight game between the Buffalo Bills and New York Giants, as the clock dwindled late in the fourth quarter.
With only eight seconds left, and his team trailing 19-20, Bills kicker Scott Norwood trotted up to the tee and lined up his potentially Super Bowl-winning kick. The snap was good, the hold was good, the kick…"WIDE RIGHT," as Al Michaels famously called.
The Bills went on to lose that Super Bowl -- and the three Super Bowls that followed, as well.
7. Karl Malone "Mailman doesn't deliver"
"The Mailman doesn't deliver on Sundays," Scottie Pippen muttered -- as he walked past Karl Malone -- who stood at the free-throw line with the Jazz and Bulls tied 82-82 in game one of the 1997 NBA Finals.
Pippen was right. Karl "The Mailman" Malone, who took home MVP honors in '97, could've given his team the lead with just 7.5 seconds left -- but, instead, missed two decisive key throws.
Malone's misses allowed the Bulls to have one more possession to take the lead -- and with Michael Jordan on the court -- this was pretty much a kiss of death.
Jordan came down the other way and hit a go-ahead jumper for Chicago. Classic.
8. Jeff Locke "LACES OUT"
Remember that scene in "Ace Ventura," in which the cute old lady says Dan Marino should die of gonorrhea and rot in hell for not placing the ball "laces out" (like he's supposed to) while trying to hold for a place kick? Well, that's essentially what happened to Blair Walsh Sunday, as he shanked his potentially game-winning field goal.
All game long, Jeff Locke held the football down with the laces facing TOWARD Walsh, a recipe for disaster when it comes to kicking. Although Walsh has faced the brunt of criticism for missing the kick, he wasn't the only one who f*cked up.
Laces out!