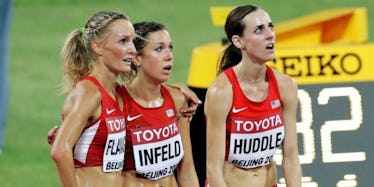 Runner Loses Out On Bronze Medal After Celebrating The Win Too Early (Video)
American distance runner Molly Huddle gave it her all for about 97 percent of the 10,000-meter race at the IAAF World Championships in Beijing this Monday.
But after slowing down to raise her hands in celebration of what she thought would be a bronze medal finish, she was passed by fellow countrywoman Emily Infeld and ended up finishing fourth.
On one level, Huddle should obviously be upset about missing out on a medal, but on another, she has to be somewhat happy for her teammate, right?
Better luck next time, Molly.
In any event, let this be a lesson, kids: You should always play to the whistle.
Citations: American runner loses bronze medal after celebrating too early (For The Win)