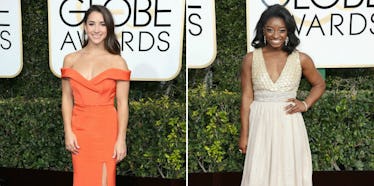 Aly Raisman And Simone Biles Look Incredible In Sports Illustrated Bikini Pics
REX/Shutterstock
I live in the greater New York City area, and when I woke up this morning, I couldn't even feel my toes.
It's been ridiculously cold in much of the Northeast recently, but I have some news that will not only thaw you out, but get you sweating in your seat.
Tuesday morning, the Sports Illustrated Swimsuit Instagram account posted a warning for a "major announcement" coming our way.
To caption the above photo, SI wrote,
Get ready! #SISwim has a MAJOR announcement coming at noon ET!
So we waited. Now, it appears the wait was more than worth it.
The Sports Illustrated Swimsuit account posted a few ridiculously sexy photos of two women they will feature for the first time in the 2017 Swimsuit issue.
Can you guess who? It's none other than US gymnasts Aly Raisman and Simone Biles!
You already knew Aly Raisman and Simone Biles were in tremendous physical shape, hence their bounty of gold medals at the 2016 Summer Olympics in Rio, but you've never seen Raisman and Biles like this.
Aly Raisman is a star and looks seriously sexy while modeling in a bikini for the upcoming Sports Illustrated Swimsuit issue.
Simone Biles? She's a smokeshow, too, and she absolutely killed it in this shot.
The fun doesn't end there, though, because we also have this super sexy behind-the-scenes video of Aly Raisman and Simone Biles being photographed for the 2017 Sports Illustrated Swimsuit issue.
Enjoy!
I'm sure there's no need to ask, but are you warm yet? Do you need to shed a few layers of winter clothing before you move on with your day?
Trust me, I understand.
The two Olympians made headlines this weekend, too, looking gorgeous at the Golden Globe Awards in LA on Sunday.
Raisman and Biles are certified stunners, and I can't wait to see the final photos of these Olympians in the 2017 SI Swimsuit issue.
Keep killing it, ladies!
Citations: WHOA! US Gymnasts Aly Raisman And Simone Biles Posing In Bikinis For The 2017 SI Swimsuit Issue Is H-O-T (Bro Bible)