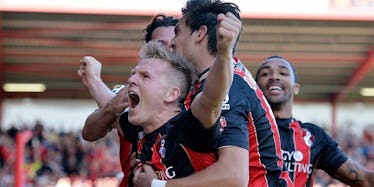 Before Making The Premier League, This Team Used Bake Sales To Survive
Facebook
Seven years ago, a soccer team whose existence dates back to 1899 were 90 minutes away from being relegated from the fourth tier of English Soccer, and ceasing to exist entirely.
But thanks to an 80th minute goal from Steve Fletcher, during AFC Bournemouth's final home game of the year, Eddie Howe's side maintained their survival in every sense of the word.
Just 12 months later, the Cherries, as they're affectionately known in and around the coastal resort town of Bournemouth, went from fighting for their soccer lives to promotion to the third tier of English professional soccer.
By the final day of the 2012-2013 season, Bournemouth were assured of yet another jump to the next highest level in England, the Championship.
And after finishing the 2014-2015 season as Championship champions -- securing their third promotion in six years -- AFC Bournemouth will play in the Premier League for the first time in the club's history.
This story, though, goes well beyond an 80th-minute strike from Steve Fletcher; it starts back in January of 1997 when 2,000 fans rallied to save their team a first time.
Back in 1997, Bournemouth were 15 minutes from going belly-up.
Roughly $7 million in debt and unable to pay its players' wages, AFC Bournemouth were on the verge of going into liquidation.
Two thousand fans packed the Winter Gardens theatre to show their support while countless others helped to raise $1.4 million in an effort to keep the club alive.
Those who couldn't give cash promised instead to make cakes, cookies and all manner of sweet treats to sell at bake sales in an effort to raise more money for AFC Bournemouth.
It worked. And that mentality and action helped Bournemouth cope with their 2008-2009 crisis.
The club's chairman, Jeff Mostyn, said,
Six years ago we were on the edge of the abyss. We've climbed right through the leagues and into the Premier League. It's just incredible. I don't think anybody, not even the craziest optimist, would ever have thought this was possible.
Manager Eddie Howe said,
A group of supporters put their money in their pockets to keep the club alive and they are reaping the rewards. It is the club I watched as a kid, the club that gave me an opportunity in the game as a player and a manager.
They may be in the Premier League, but Bournemouth aren't looking to shed their small club identity.
The players on Bournemouth's roster are nowhere near the same tax bracket as Eden Hazard, Sergio Aguero and Wayne Rooney.
Many of them have even had to wash their own uniforms before games.
And Bournemouth's home, by far the smallest in the Premier League, seats just 11,700 fans; that's 9,000 seats less than the next smallest venue, Swansea's Liberty Stadium, and over 64,000 seats less than the largest EPL venue, Manchester United's Old Trafford.
But Howe and Mostyn have made the most with what they have.
The club's record signing, Callum Wilson, cost Bournemouth £3 million. By comparison, Manchester United spent £59.7 million on Angel Di Maria last August.
In fact, they've built an entire Premier League side for less than £10 million, and that's gained them more admiration than anything.
The achievements of Eddie Howe at Bournemouth make me wonder whether we've possibly found the English 'special one'. — Gary Lineker (@GaryLineker) April 27, 2015
Despite their small stature, Bournemouth players have an attacking, free-flowing flair.
And they appear to have some of the most loyal fans in England.
Regardless of how they fare this season, Bournemouth are set to win in so many ways.
There's no doubt about it, the Cherries are going to get shredded at least once or twice by the Premier League big boys.
But, considering how far this club has come, and what they went through to get to the top flight of English soccer, this season can be looked at as nothing less than a massive success.
If they manage to avoid relegation back to the Championship at the end of this season, Bournemouth are set to earn anywhere from $150 million to $200 million in prize money and television revenue.
And thanks in part to the signing of forward Max Gradel, who played for the Cherries during the 2007-2008 season, they'll most definitely have a fighting chance.
.@Redknapp thinks Max Gradel will be a good signing for #Bournemouth and it's not hard to see why... https://t.co/ltCAb75Awa #AFCB — KICCA (@KICCASPORT) August 4, 2015
AFC Bournemouth open their Premier League campaign at home to Aston Villa, and the Vitality Stadium is sure to be rocking.
The fact that fans held bake sales to save this club is nothing short of amazing; regardless of how this season plays out, Bournemouth already have their fairytale ending.
Citations: Bournemouth in the Premier League is a Cinderella story to capture the heart (ESPN), Cherries on top: How Bournemouth went from the brink of liquidation to the Premier League (Mirror)