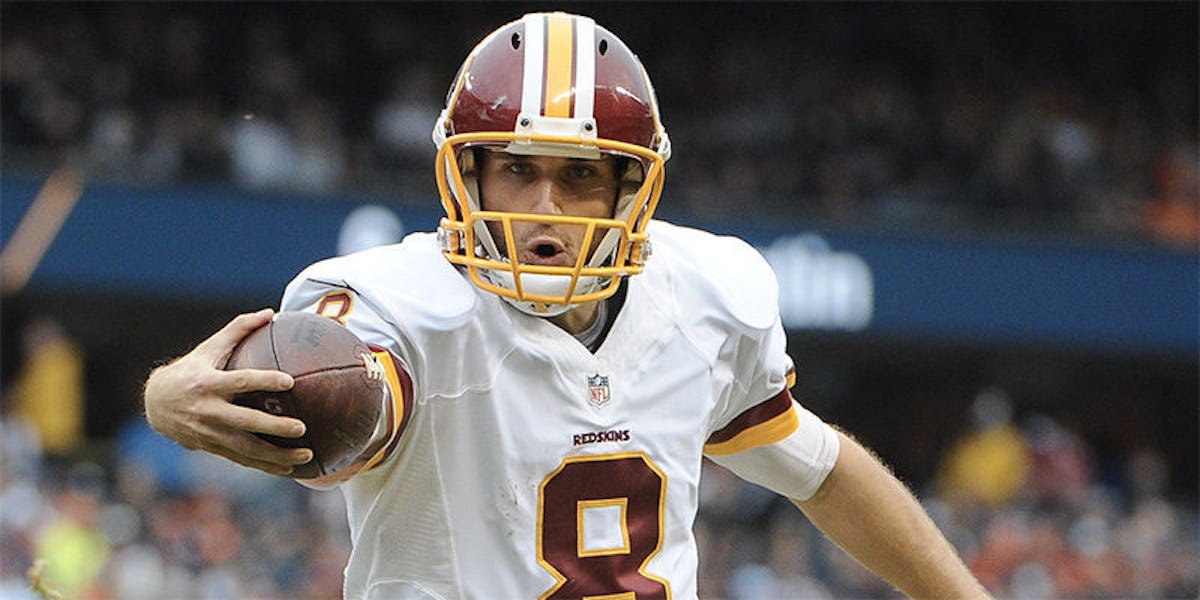 5 Fantasy Playoff Sleepers Who Will Help You Sneak Into The Next Round
Getty Images
Fantasy football playoffs are underway, and several sleepers are stepping up, just in time to make you ponder over your starting roster decisions in an effort to get that Super Bowl victory.
The following five players are sleepers who are definitely worth inserting into your starting lineup for the next couple weeks.
Some are guys you would have never thought to be starting material just a few weeks ago, but have now stepped up into the starting role with some favorable match-ups approaching.
For all you fantasy owners who have reached the playoffs in your league, first of all, congratulations.
But now it's down to business.
If you happen to own any of these players, I would highly suggest starting them in your playoff run, because they could be the guys who'll make all the difference.
Alex Smith, Kansas City Chiefs
Alex Smith has quietly led his Kansas City Chiefs to a 8-5 record and right in the midst of postseason hopefuls.
He hasn't had many spectacular games, fantasy-wise, but he is getting the job done.
So far this season, he has had three 30 plus fantasy point performances, and I think he could have at least two more coming up in the next few weeks.
The Chiefs take on the Baltimore Ravens in week 15, whose weakest unit this season has been its secondary. The team as a whole has struggled all season, on both sides of the ball, a lot of which has to do with the plethora of injuries they have suffered.
The Chiefs should be able to exploit the Ravens' weaknesses in a big way and come away with a convincing victory.
I predict Smith to have his fourth 30 plus point game this week, making him a solid start for fantasy owners. And with the Chiefs taking on the Cleveland Browns in week 16, I would consider keeping him as your starter through the remainder of your fantasy playoffs.
He could help guide your team to a Super Bowl victory.
Kirk Cousins, Washington Redskins
Kirk Cousins has been under the radar all season, yet he has somehow guided his Washington Redskins to a 6-7 record and first place in the NFC East, in hopes to earn a postseason berth for the first time since 2012.
Cousins has had some really great games as well as some rather poor games the season.
He's scored as many as 40 fantasy points to as little as 13 points in back to back weeks, making him an untrustworthy start for fantasy owners.
However, he may be worth a second thought in the next couple weeks, during your fantasy playoffs.
With a lot on the line for the Redskins , who are fighting for a playoff spot, Cousins may be in for some of his best games in the next couple weeks, against two teams who are known to give up some points to opposing quarterbacks.
He takes on the Buffalo Bills this week, who are also fighting for a playoff berth, which could make for a competitive, high-scoring game.
Then, in week 16, he will take on division foes, the Philadelphia Eagles, who are are ranked 31st in the NFL against the pass, giving up 28.5 points per game.
These next two weeks could be a great time to own Cousins, at a time he will need to be on the top of his game.
Denard Robinson, Jacksonville Jaguars
Denard Robinson will take over for the injured TJ Yeldon in week 15 as the starter for the Jacksonville Jaguars.
He is an intriguing prospect over the next two weeks, as the Jaguars take on two of the worst defenses against the run this season: the Atlanta Falcons and the New Orleans Saints.
This is a perfect time to own Robinson if you are in the playoffs in your fantasy league. This week, the Jaguars face the struggling Falcons, who just can't seem to get any momentum going on either side of the ball.
The Jaguars, while in the red zone, have a tendency to pass instead of run, but that may change this week with the Falcons being a much stronger defense vs. the pass.
Robinson is coming off a solid week 14 performance after taking over for Yeldon, with 14 carries for 75 yards and a touchdown.
I will confidently predict that momentum will continue for the remainder of the season. Robinson is a must in any fantasy line-up.
He may be the one to ultimately propel you to a Super Bowl victory. Who would have thought that before this week?
Malcom Floyd, San Diego Chargers
The San Diego Chargers are currently struggling to stay healthy at the wide receiver position. With Stevie Johnson banged up and questionable to play in week 15, Malcom Floyd may be in for a big week.
The 34-year-old veteran has announced his retirement at the conclusion of this season, and will play in his final home game Sunday. How great would it be to see him leave on a great note, with one last touchdown before the end of his career at Qualcomm Stadium?
I think Philip Rivers will do whatever it takes to make that happen, and target Floyd as much as possible in his final few games.
The Chargers take on the Miami Dolphins this weekend, who have struggled in coverage, giving up an average of 27 points per game to opposing receivers.
Floyd has a chance to shine for the remainder of the season, so insert him into your starting lineup if you own him.
And if, by some chance, he is available in your league, claim him and don't let him go.
You won't regret it.
Eric Ebron, Detroit Lions
Eric Ebron has had a rather quiet year for the Detroit Loins. But his best games came when fellow tight end, Brandon Pettigrew was on the sidelines.
This could mean big things in the coming weeks for Ebron, as Pettigrew was just placed on season-ending IR Monday, after tearing his ACL once again in Sunday's loss to the St. Louis Rams.
This will give Ebron plenty of opportunities to make plays and become one of Matthew Stafford's main targets in the next few weeks. So, what better time than now to have him in your fantasy football lineup as Fantasy playoffs are underway?
The Lions will face off against the New Orleans Saints Sunday, who have given up the most points to opposing tight ends this season. The question is, will he show up?
Ebron has seen his role in this offense decrease over the past several weeks, due to his inconsistent hands and dropped passes.
If he can capitalize on the opportunities he is almost guaranteed to have in the upcoming weeks, Ebron has the potential to not only be one of the top scoring tight ends, but ultimately help carry your fantasy team to a Super Bowl victory.